Hulu Steps Down From the Auction Block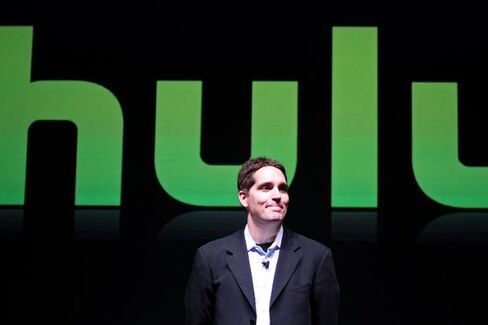 If you want to know how torn the television business is about the Internet, look at Hulu, the streaming video service owned by Disney, News Corp., and Comcast. The companies announced Friday that they weren't going to sell Hulu after all, following a long period of speculation about who would buy it, how much they'd pay, and what they'd do with it. This wasn't even the first time this had happened—Hulu's owners tried to sell the company two years ago, before deciding not to.
In many ways, Hulu is shaping up to be a success. It runs a free, ad-supported service that turns a profit, and a $7.99-a-month option that gives viewers access to a wider range of shows. Sources tell Bloomberg News that the free service is profitable. The paid version, which has 4 million subscribers, operates at a loss, because of higher licensing fees, but could also turn a profit within 18 months.
Everything about this potential sale has been awkward. The company was on the block because two of its owners, Disney and News Corp., couldn't agree on how to run it. The third owner, Comcast, is required by law to be a silent partner, and it wasn't clear whether Comcast would sell its stake during any sale. Rich Greenfield, an analyst at BTIG, said that it would make sense for one of Hulu's feuding owners to buy the other two out.
The hesitation of Hulu's owners to sell stemmed from their reluctance to give up control of their content. Content creators like Disney and News Corp. get fees for their programming from cable companies and other distributors. By selling Hulu to a distributor like DirecTV, News Corp. and Disney would give it more leverage when negotiating these fees, since it would be gaining millions of Hulu subscribers.
Bidders might have had their own reasons to be wary. Earlier this week, Michael Eisner, Disney's former chief executive, said that whoever ended up with Hulu might not get the next-day broadcast rights to content that the company currently enjoys. That loss would leave Hulu without its most attractive attribute. "The content owners wanted to place restrictions on how and when and at what price their content was distributed. Based on those restrictions, the buyers weren't able to generate the types of returns they'd need," said Jaison Blair, an analyst at Telsey Advisory Group in New York.
Now, instead of selling, Disney and News Corp will invest another $750 million into Hulu. They haven't said what they will do with the money, but there are several options. They could go the way of Netflix and Amazon and invest more in exclusive original content in an attempt to lure paying customers. Or they could build up technology and software. It will be interesting to see how this plays out, because Hulu's owners are clearly not sure what they want to do.
Before it's here, it's on the Bloomberg Terminal.
LEARN MORE