Hart Wine Auctions Rise 30% in First Half to $20 Million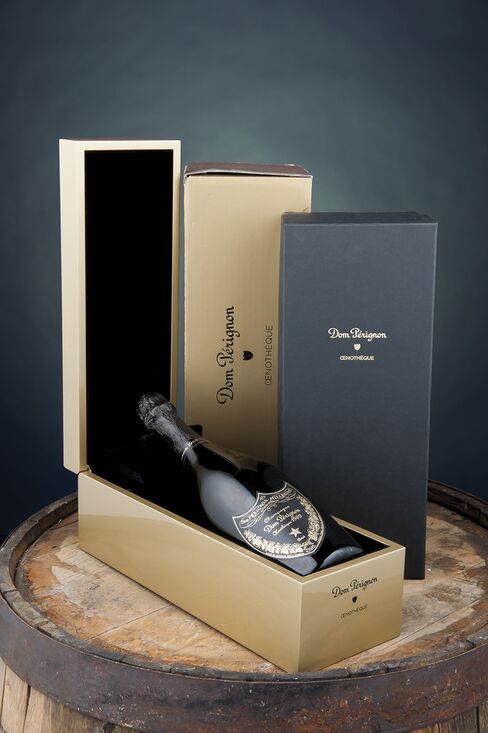 Wine auctions by Chicago-based Hart Davis Hart Wine Co. rose 30 percent to $20 million in the first half of this year as demand persisted for top Bordeaux and Burgundy wines as well as rare Champagne.
A case of Chateau Lafite-Rothschild 1982 took the top slot at its most recent auction at the end of June, selling for $32,000, while a case of Dom Perignon Oenotheque 1969 Champagne fetched $24,000, according to a statement from Hart.
The sale raised a total $4.75 million as Hart rounded off its first-half auction season. The auction came as the Liv-ex Fine Wine 50 Index, a barometer of Bordeaux prices in the wider market, has risen 4 percent this year.
"I'm seeing good strength, better than we've seen in some time," Paul Hart, the auctioneer's chief executive officer, said by telephone from Chicago.
Other leading lots in the sale included 11 bottles of Clos de la Roche, Vieilles Vignes, Domaine Ponsot Burgundy which sold for $28,000 and 10 bottles of Barolo Riserva 1978 Monfortino Giacomo Conterno, which fetched $22,705.
Hart said that investor demand was buoyant in places such as Hong Kong, Brazil and the U.S.
"We spend quite a lot of time in Brazil, and that market is very strong," he said.
Following is a table of major wine auctions held so far this year, with the total sold. Links are to auction websites or results statements.
JANUARY:
Jan. 11/12:     Zachys, Hong Kong                     $4.65 mln
Jan. 25/26:     Acker, Merrall & Condit, Hong Kong    $6.82 mln
Jan. 30:        Sotheby's, London                     $2.22 mln

FEBRUARY:

Feb. 2:         Hart Davis Hart, Chicago              $4.40 mln
Feb. 21:        Christie's, London                    $1.47 mln
Feb. 23:        Acker, Merrall & Condit, New York     £3.10 mln
Feb. 23:        Sotheby's, New York                   $1.46 mln
Feb. 27:        Sotheby's, London                     $1.04 mln

MARCH:

March 7/8:      Zachys, New York                      $5.81 mln
March 14:       Christie's, New York                  $1.37 mln
March 15/16:    Christie's, Hong Kong                 $6.19 mln
March 21:       Christie's, London                    $1.22 mln
March 22/23:    Acker Merrall & Condit, Hong Kong     $4.93 mln
March 23:       Hart Davis Hart, Chicago              $4.42 mln

APRIL:

April 3:        Acker Merrall & Condit, New York      $2.30 mln
April 3/4:      Sotheby's, Hong Kong                  $8.86 mln
April 17:       Sotheby's, London                     $2.06 mln
April 23:       Christie's, Amsterdam                 $1.23 mln
April 25/26:    Zachys, New York                      $4.13 mln
April 26/27:    Sotheby's, New York                   $2.60 mln
April 27:       Acker Merrall & Condit, New York      $2.48 mln

MAY:

May 2:          Christie's, London                    $1.93 mln
May 14:         Christie's, Geneva                    $3.96 mln
May 17/18:      Hart Davis Hart, Chicago              $6.42 mln
May 22:         Acker Merrall & Condit, New York      $2.22 mln
May 22:         Sotheby's, London                     $1.31 mln
May 24/25:      Zachys, Hong Kong                     $5.73 mln
May 25:         Christie's, Hong Kong                 $6.32 mln
May 30:         Christie's, New York                  $0.71 mln
May 31:         Christie's, New York                  $1.93 mln

JUNE:

May 31/June 1:  Acker, Merrall & Condit, Hong Kong    $5.91 mln
June 6:         Christie's, London                    $1.85 mln
June 13/14:     Zachys, New York                      $3.56 mln
June 29:        Acker Merrall & Condit, Hamptons      $3.40 mln
June 28/29:     Hart Davis Hart, Chicago              $4.75 mln