French Wreck Reveals Hidden Danger in Its Vaunted Train System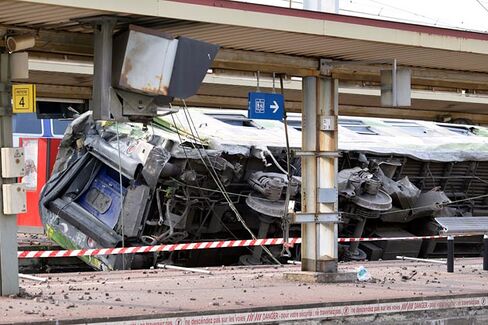 At least seven people died today in a horrific train derailment that left twisted wreckage strewn across the platform of a suburban Paris station.
The wonder is that it didn't happen sooner. France, whose high-speed TGV rail network is famed for top-notch service and an almost-unblemished safety record, has left much of its remaining rail system in a sorry state.
Authorities didn't immediately identify the cause of the wreck, but according to the newspaper Le Figaro, a group representing local commuter-rail passengers said that a rail-switching device near the derailment site had been malfunctioning for several weeks.
Guillaume Pepy, president of the state-owned rail company SNCF, told a parliamentary hearing last fall that the conventional trains linking hundreds of French cities and towns urgently needed replacing. Some trains on these lines are 40 years old. The system "has reached the end of its life," Pepy said.
Transport Minister Frédéric Cuvillier announced in January that the government would spend €400 million ($523 million) this year on upgrading the secondary rail system. That's a start—but it's less than half the €900 million that the SNCF spent last year on an order for 30 new TGV trains.
And it didn't come in time to prevent today's derailment, which occurred on a train traveling from Paris to Limoges, one of the routes slated for upgrading. Interior Minister Manuel Valls said there were seven confirmed deaths, but the toll was "likely to grow." French news media reported that passengers were crushed and electrocuted aboard the train, packed with 370 people at the beginning of the Bastille Day weekend that marks the start of many people's vacations. It was the worst rail accident in France since 1988, when a commuter train collision at Paris's Gare de Lyon killed 56 people.
Intercity trains aren't the only part of the French system that's been neglected. Some of the Paris commuter rail system, the so-called RER, is literally crumbling. Passengers using the Auber station, which lies underground near the Paris Opera house and the glittering department stores on the Boulevard Haussmann, dodge chunks of falling plaster and buckets that catch water which drips through the ceiling on rainy days.
The commuter rail network is used mainly by local residents who endure frequent delays and equipment breakdowns. (The Paris Métro system, which gets considerable tourist traffic, is generally more reliable and better-maintained.)
Why do commuter and conventional trains like the one that derailed today get short shrift? One reason is that the government has favored flashy new projects, such as the 2001 extension of the TGV from Avignon to Marseille at a cost of $5 billion. Industry Minister Arnaud Montebourg has called the TGV's development "very important to maintain our competitivity."
That may be true. But it's not very reassuring for the millions of French people who'll board ordinary trains tomorrow morning to go to work or on vacation.
Before it's here, it's on the Bloomberg Terminal.
LEARN MORE