How Investing in Print Could Pay Off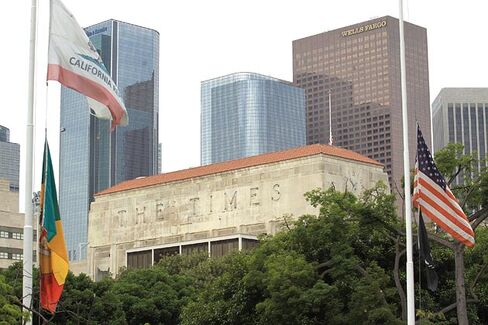 News Corp. Time Warner. Now, Tribune. They're all spinning off their declining print businesses.
Why would anyone buy these orphans? Because they will offer pure plays on what promises to be more mergers and acquisitions in the industry. It might even get exciting.
"The spun-off publishing companies may be better positioned to consolidate the shrinking newspaper and magazine industries," says Paul Sweeney of Bloomberg Industries.
Rupert Murdoch's News Corp. Publishing, he notes, will be the biggest U.S. publisher, with $8.2 billion in revenue and $1.3 billion in earnings before interest, taxes, depreciation, and amortization. Its $2.6 billion in cash and no debt leave it primed to acquire titles. Murdoch has been seeking ways to take out Tribune's Los Angeles Times, people familiar with the matter told Bloomberg News in March. Last year, News Corp. management looked into acquiring about a fifth of Time Inc.'s magazine titles, according to two people with knowledge of the matter who asked not to be named because they weren't authorized to speak publicly.
According to Bloomberg, News Corp. Publishing has more cash at its disposal than any print competitor. "They will be acquisitive—that's the way they operate," Karen Klapper, a debt analyst at CreditSights, told Bloomberg's Edmund Lee on July 1. "That's the only way it grows. Publishing is only going one way these days, and it's not up."
Tribune Chief Executive Officer Peter Liguori said in a May memo to employees that the company had received "a great deal of unsolicited interest in our publishing businesses, which says a lot about the strength of our brands." Tribune publishes the Los Angeles Times, Chicago Tribune, and Baltimore Sun, among several other dailies.
The reported short list of title buyers includes billionaire Republican donors Charles and David Koch, Berkshire Hathaway, Wrapports, and Freedom Communications. A group of Los Angeles residents led by Eli Broad and Ronald W. Burkle is thought to be interested solely in the LA Times.
A spinoff instead of an outright sale of its newspapers buys Tribune both tax flexibility and time to shop its individual titles. The company, which emerged from bankruptcy last year, had hired advisers to evaluate interest from buyers. What's key: Tribune's spinoff, which is tax-free to current shareholders, doesn't preclude selling off some or all of its papers down the line.
Analyst Edward Atorino of Benchmark Co. sees spinoff shareholders participating more directly in the upside from those sales. "You have major brand-name newspapers in major markets, possible survivors for a long time," he says. "Growing on-line readership; important news gathering franchises; individuals and groups with large resources. Fill in the blanks."
Before it's here, it's on the Bloomberg Terminal.
LEARN MORE