The Best Thing We Could Find About Tribune's Newspaper Split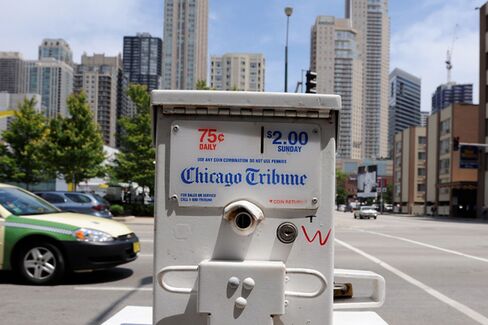 Tribune Co. said this morning it will split its eight daily newspapers off from its burgeoning TV empire. As the company's executives explain the plan to potential investors, the first slide in their pitch book should be this: The paywalls are working.
Last year, as Tribune started charging for online access to its marquee papers—the Chicago Tribune and the Los Angeles Times—it posted a 9 percent increase in circulation revenue, according to its financial statements (PDF). The media empire recorded an additional 2 percent gain in the category during the first quarter of this year.
Those bright spots have been largely overshadowed by the company's financial woes—it owes $1.3 billion in long-term debt, plus $501 million in pension obligations—as well as its aggressive push into TV (Last week, it closed a $2.7 billion deal to buy 19 stations from Local TV Holdings.) But it's notable that Tribune's newspapers seem to be grabbing more readers, in both the fish-wrap format and digital editions. Most of its paywalls follow the format of the New York Times system: Readers get gratis access to a set number of articles a month. After that. they can pony up or circumvent the paywall by clicking through to Tribune sites from search-engine results and links shared on social media.
In the six months ending on March 31, the Los Angeles Times, which erected a paywall in the spring of last year, posted average daily circulation of 654,000, a 6 percent increase, according to the Alliance for Audited Media. In the same period, circulation at the Chicago Tribune, which built its paywall in November, was up a tad, to 415,000 on the average weekday and 781,000 on Sunday.
Tribune's Baltimore Sun has had a paywall for years, while its two Florida papers, the South Florida Sun Sentinel and the Orlando Sentinel, starting charging online in early 2012.
In spite of the gains, paid subscriptions still contribute only slightly more than one in five Tribune dollars, and advertising remains a problem. Last year, 7 percent of Tribune's display ad dollars disappeared, and it posted a 10 percent decline in classified revenue. Even so, if the advertising conditions don't disappear more quickly and Tribune can maintain its circulation gains and cost structure, an optimist could find a way to forecast slight annual gains in profit, at least before pesky things such as interest and taxes are factored in.
Before it's here, it's on the Bloomberg Terminal.
LEARN MORE