Nabiullina Seen Holding Russian Rates on Inflation Concerns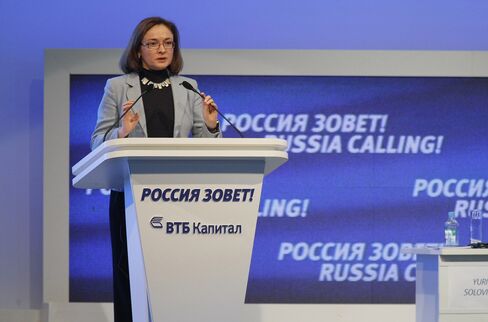 July 11 (Bloomberg) -- Elvira Nabiullina will probably kick off her tenure as Russia's monetary policy chief by holding rates as inflation remains above target, extending her predecessor's stand against easing into a 10th month.
The central bank will leave the refinancing rate at 8.25 percent at tomorrow's meeting in Moscow, according to 15 of 22 economists in a Bloomberg survey. Seven forecast a cut, up from four in June. The main lending and deposit rates will also be unchanged, two separate polls showed.
Nabiullina, a former economy minister who was appointed central bank chairman as senior officials sought monetary stimulus, is battling the perception that she would deliver a more accommodative policy than predecessor Sergey Ignatiev. Economists last month scaled back forecasts for rate cuts this quarter after Nabiullina, 49, cautioned against using cheaper borrowing costs and the exchange rate to boost growth.
"If Nabiullina cuts the main policy rates at the first meeting, it would send the wrong signal to the market," said Tatiana Orlova, senior economist at Royal Bank of Scotland Group Plc in London. "As headline inflation is still almost a percentage point above the central bank's target range, a cut would raise questions about the continuity of the policy of inflation targeting."
The three-month MosPrime rate, which large Moscow banks say they charge one another, may drop 23 basis points, or 0.23 percentage point, in the next three months, according to forward-rate agreements tracked by Bloomberg.
Easing Deferred
Economists are predicting the central bank will push back easing, delivering one quarter-point cut to the main short-term repurchase rates in the third quarter followed by another reduction in the fourth, according to a Bloomberg survey conducted in June. The previous month analysts predicted two cuts this quarter to 5 percent, from 5.5 percent now.
While the inflation rate dropped below 7 percent in June for the first time this year, it has remained above the central bank's 5 percent to 6 percent range for 10 months. It may drop back into that band by September or October, Ignatiev said in June before ending his 11-year tenure as chairman.
The regulator today published results of a survey that found inflation expectations continued to ease in May and June.
Balance Tipped
The slower price growth may convince Nabiullina to move more quickly to reduce rates, according to a growing minority of economists. The central bank has signaled a bias toward easing, reducing some longer-term rates on less-used instruments at each of the last three meetings.
"We had expected the central bank to be cautious, despite an easing bias, and hold the main policy rates to September," Jacob Nell and Alina Slyusarchuk, analysts at Morgan Stanley, wrote in a report last week. "Now we think that the good June inflation print, ongoing weak growth indicators and the exogenous tightening from higher global yields tip the balance."
Yields on Russia's ruble debt due in 2028 have jumped 79 basis points to 7.93 percent since May 22, when Federal Reserve Chairman Ben S. Bernanke first raised the possibility of scaling bank the U.S. central bank's bond purchases in 2013.
Nabiullina has sought to deflect speculation she would focus on the economy more than Ignatiev, arguing that Bank Rossii helps foster growth by containing inflation. The central bank must also avoid responding to short-term changes in the economy or political pressure, she said in an interview before her first day in office.
Continuing Caution
Gross domestic product grew 1.6 percent in the first quarter from a year earlier, the weakest pace since a 2009 contraction, as mining and utilities fell. Slowing growth in China, Russia's single biggest trading partner, and a recession in Europe have sapped demand for exported commodities.
"The signs from recent communications are that Nabiullina will continue the cautious approach of her predecessor," said Neil Shearing, chief emerging markets economist at Capital Economics Ltd in London. "That might mean that the board wait for further evidence that inflation has peaked and is now falling."
To contact the reporters on this story: Scott Rose in Moscow at rrose10@bloomberg.net; Olga Tanas in Moscow at otanas@bloomberg.net
To contact the editor responsible for this story: Balazs Penz at bpenz@bloomberg.net