Consumer Bureau Crackdown on Debt Collectors Hits Banks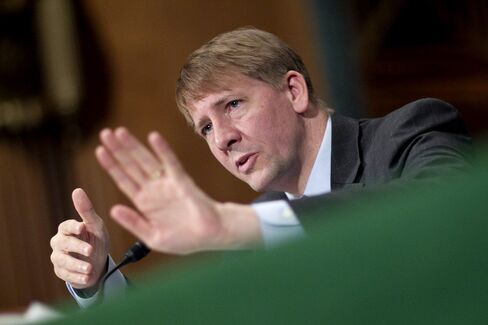 July 10 (Bloomberg) -- Banks supervised by the Consumer Financial Protection Bureau now face penalties if they mistreat consumers while collecting debts, the latest move in a broader crackdown on debt-collection practices the agency has pursued since last year.
The new policy, which follows efforts to rein in abusive credit-card and lending policies, will plug a gap in federal anti-harassment law that generally excluded creditors who collected debt themselves, rather than hiring third parties.
"It doesn't matter who is collecting the debt -- unfair, deceptive or abusive practices are illegal," Richard Cordray, the CFPB director, said in an e-mailed statement.
Regulators at the state and local level are also considering a mixture of legal action and regulation to restructure an industry that generated hundreds of thousands of consumer complaints about harassment by bill collectors as recession-hit Americans struggled to pay down debt.
Iowa Attorney General Tom Miller is leading a multi-state effort that is "in the early stages" of determining how the states could foster changes to how credit-card issuers and collectors who buy charged-off debt keep track of consumer information. Many complaints stem from attempts to collect a non-existent debt, or one that's already been repaid.
States Act
Action by the states would deal with "the sale of debt by the credit card companies to the debt buyers and what information they'd have to certify," Miller said in an interview.
JPMorgan Chase & Co., the biggest U.S. bank by assets, said in May it expected to face enforcement action over how it pursues consumers with bad debt. The Office of the Comptroller of the Currency, the U.S. regulator for national banks, is probing lenders' debt-collection practices, and may force JPMorgan to identify borrowers who should be compensated for past abuses, the Wall Street Journal reported today, citing a person familiar with the New York-based bank's conversations with regulators.
Thirteen states are also examining JPMorgan's practices, according to the newspaper. The bank conducted an internal review of about 1,000 lawsuits and found mistakes in 9 percent of the cases, people familiar with the matter told the Wall Street Journal. Kristin Lemkau, a spokeswoman at JPMorgan in New York, declined to comment on the reports.
JPMorgan said in a May 8 regulatory filing that it will face enforcement action from federal regulators over its collection practices and credit-card add-on products such as credit monitoring.
FTC Settlement
A debt-collection firm backed by a JPMorgan private-equity unit agreed to pay $3.2 million to settle a Federal Trade Commission complaint that it illegally harassed consumers, the agency said yesterday. JPMorgan said it has a stake in the company, Expert Global Solutions Inc., through its One Equity Partners business, and doesn't use Expert Global's debt-collection services.
The Consumer Financial Protection Bureau, created by the Dodd-Frank law of 2010, supervises banks with assets over $10 billion, ranging from JPMorgan to regional players like Lafayette, Louisiana-based Iberiabank Corp., for compliance with federal consumer-protection rules. It also oversees non-bank financial firms, such as credit bureaus, payday lenders and debt collectors.
Agency Crackdown
The agency has signaled that it would take action against lending and debt-collection practices that take advantage of ill-informed or vulnerable consumers.
In addition to reviewing debt-collection practices, the agency is scrutinizing payday and other small-dollar loans, overdraft fees, and discrimination in auto lending. It has fined Capital One Financial Corp., American Express Co. and Discover Financial Services over credit-card practices including add-on products like credit monitoring.
As part of its efforts to identify problem areas for consumers, the agency is collecting and reviewing large amounts of consumer-transaction data, a practice that has been criticized by lawmakers and financial industry firms.
The debt-collection industry is a mixture of creditors, debt buyers, collectors and the lawyers who work with them. Major card issuers such as Bank of America Corp. collect on their own debt, but sometimes sell charged-off loans to buyers and collectors such as Portfolio Recovery Associates Inc. and Encore Capital Group Inc.
Credit-Card Debt
Card issuers charged off $33 billion in consumer debt for collection in 2012, according to Corporate Advisory Solutions LLC, a Philadelphia-based consultancy. Third-party debt collectors earned $12 billion that same year, while first-party collection -- by creditors -- was $1 billion.
Isaac Boltansky, an analyst with Compass Point Research & Trading LLC in Washington, said the regulatory pressure could push banks to rely more heavily on third-party collectors.
"This new regulatory framework may result in some of the nation's larger third-party debt collectors capturing market share as creditors choose to curtail their in-house collections operations due to both heightened headline risk and increased compliance cost," Boltansky wrote in a research note.
Federal Law
Under the policy announced today, the consumer bureau will effectively extend federal law to include creditor banks by issuing so-called supervisory bulletins that outline practices bank examiners may consider illegal, Cordray said. The Fair Debt Collection Practices Act has since 1977 protected consumers against mistreatment from companies that buy debts from the original creditors, and from third-party vendors. It doesn't usually cover companies collecting on loans they made themselves, Cordray said.
Improper collection practices include threatening a consumer with actions a collector cannot take, such as arrest, or lying about who owns the debt or the amount, Cordray said. A second bulletin warns companies to be cautious in making statements about how paying a debt affects a person's creditworthiness.
"Debt collectors use all sorts of strategies -- some legitimate and some illegitimate -- to convince consumers to pay their debts," Cordray said at a hearing on the issue today in Portland, Maine, according to his prepared remarks.
The CFPB has also moved to open its consumer-complaint system, which has included credit cards, mortgages and bank accounts, to debt collection, Cordray said.
Complaint System
The Federal Trade Commission has long run a complaint system for debt collection, and it fielded 199,721 complaints on the industry in 2012. By contrast, the CFPB system, which has existed since July 2011, has publicly logged about 123,000 complaints on all subjects.
Under the CFPB's system, in addition to filing a complaint against the debt collector, consumers can direct the complaint against the creditor that originated the loan.
"This intake system will be useful as a feedback mechanism for creditors that have hired third-party debt collectors or sold their debt," Cordray will say.
Banks objected to the CFPB's complaint system when it opened because the agency publishes the names of companies against whom consumers have filed. Advocacy groups have praised it as a way to hold lenders accountable. Some banks have used the system to improve customer service.
Data Accuracy
The agency is also considering a new regulation to improve the accuracy of information used to collect debts.
Cordray said there is a "strong consensus about the need for robust national documentation standards" for the information used to collect debts. "We will keep that in mind as we move toward a rulemaking process on debt-collection issues," Cordray will say.
The state attorneys general led by Iowa's Miller are trying to devise standards for information flow between debt sellers -- typically banks that issue credit cards -- and buyers who try to collect on them.
The debt-collection industry threw back a broad legislative push in 2011 for tighter state laws on what information debt collectors needed to provide consumers. In part, they argued that the original creditors do not amass information that the state laws would have required debt collectors to provide when suing for repayment.
Miller said he's trying to address that complaint by bringing debt buyers and banks into a negotiation that would yield benchmarks for what kind of data should be collected.
"The banks should have some standards as to what information they have to give," Miller said. "That could be very similar to what the debt buyers have to give to the court."
The CFPB today also released five model forms that consumers can use to communicate with debt collectors if they, for example, want to direct correspondence to their lawyers or obtain more documentation of a debt.
To contact the reporter on this story: Carter Dougherty in Washington at cdougherty6@bloomberg.net
To contact the editor responsible for this story: Maura Reynolds at mreynolds34@bloomberg.net