Brummer Prefers Private-Equity Bets Over Stocks: Southeast Asia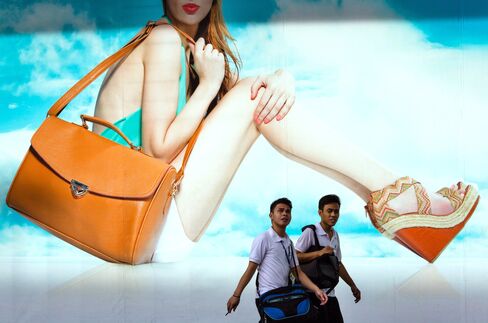 July 11 (Bloomberg) -- Brummer & Partners, the largest Scandinavian hedge-fund manager, will favor private companies rather than listed stocks to avoid volatility as it sets aside $120 million to tap growth in the Philippines.
"It is a better way to participate in the long-term growth of a country to be on the private side," Patrik Brummer, founder of the Stockholm-based firm, said in an interview in Manila yesterday. "Public markets are more volatile than private markets."
The fund, which manages about $15 billion, is working with local partners Honorio Poblador and Javier Infante, he said. The private-equity fund, called Navegar, will over five years invest in eight to 10 companies that should generate returns of at least 20 percent each, Brummer said.
The manager is making its first Asian bet in five years in the Philippines, the region's fastest-growing economy with one of its youngest populations. President Benigno Aquino, whose crackdown on corruption while narrowing the budget deficit helped the country win its first investment-grade ratings, seeks more than $17 billion of investment in infrastructure.
The fund plans to hold minority stakes in the companies until they list or are acquired, Brummer said. Infante, who also took part in the interview yesterday, said he's in talks with five companies about a possible investment. He said the target is to make two investments this year and another two in 2014.
'Predictable Growth'
Investments will focus on companies in food, apparel, retail, consumer finance, health care, real estate, business process outsourcing, tourism, education and manufacturing. Infante founded Ambergis Solutions, an outsourcing company eventually acquired by Telus International. Poblador is a former managing director at N M Rothschild & Sons Ltd.
One can "find reasonably predictable growth" in parts of Southeast Asia, Brummer said. "Some prefer Africa, some prefer Latin America, but I like what I see in the Philippines."
Philippine gross domestic product grew 7.8 percent in the first quarter, outpacing China to be Asia's fastest-growing. The country, the fifth-best performer globally in 2012, will probably remain among the world's 10 fastest-growing economies until 2015, according to Bloomberg surveys. The Philippines is Southeast Asia's second-most populous nation with 105.7 million people, according to data compiled by Bloomberg.
Bangladesh Fund
The manager set up a Bangladesh hybrid fund in 2008 to invest $53 million in stocks and private equity. The fund, which Brummer said is purely focused on private equity now, invested in the export business of Bangladesh's largest automotive battery maker and a supermarket chain operator, both part of Dhaka-based Rahimafrooz Group.
Brummer started his hedge-fund business in 1995 after leaving Alfred Berg Fondkommission AB, the largest brokerage in the Nordic region, when it was acquired by ABN Amro Holding NV.
Brummer & Partners Multi-Strategy Fund, a portfolio of the firm's hedge funds, has gained 3.5 percent this year through May, according to its website.
The Philippine fund's investors include international financial institutions and Swedish industrial families, Brummer said.
The International Monetary Fund raised its growth forecast for the Philippines to 7 percent this year from a previous estimate of 6 percent, resident representative Shanaka Jayanath Peiris told reporters yesterday. It also increased next year's projection to 6 percent from 5.5 percent and expects inflation to average 3 percent to 4 percent until next year, he said.
The nation's labor pool will expand by almost 18 million, or 31 percent, to 75 million by 2020 compared with 2010, Bank of America Corp. projected in April 2012.
Star Performer
The Philippines will be among the 20 biggest economies by 2050, HSBC Holdings Plc said in a study released last year, predicting the Asian nation will be a "star performer" and expand by an average growth of 7 percent in the next 40 years.
The nation won investment grade ratings for the first time this year from Standard & Poor's and Fitch Ratings Ltd.
The Philippine Stock Exchange Index has rallied 9 percent since it sank to 5,789.06 on June 25, the lowest level since Dec. 19, and valuations dropped to 16 times projected earnings. The measure traded at a record 21 multiple when it peaked on May 15, according to data compiled by Bloomberg.
The Philippine index sank into a bear market last month as international investors sold emerging-market assets amid speculation the U.S. will cut monetary stimulus. The slump sent valuations to a seven-month low and volatility to the highest in more than four years. The gauge's 30-day historical volatility rose to 45.3 on July 8, the highest level since 2008, when Lehman Brothers Holdings Inc. collapsed.
"If the public market goes down, that is a good thing for us because if it's booming all the time, that creates false expectations from people," Brummer said. "You had this huge inflow into the public market and the public market became a little bit stretched at 20 times earnings at the peak, and normally that ends in tears."
To contact the reporters on this story: Ian Sayson in Manila at isayson@bloomberg.net; Clarissa Batino in Manila at cbatino@bloomberg.net
To contact the editors responsible for this story: Lars Klemming at lklemming@bloomberg.net; Michael Patterson at mpatterson10@bloomberg.net