At Best Buy, Flex Time Failed to Boost Family Time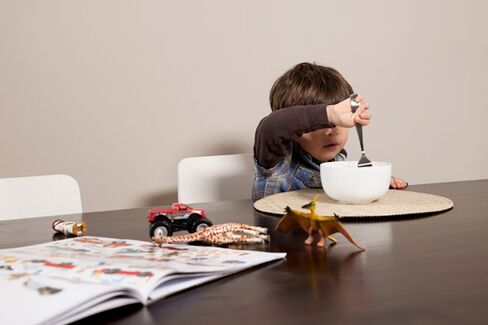 Earlier this year, Best Buy decided that its work-from-anywhere policy wasn't working out. The idea, dubbed Results Only Work Environment, was meant to boost productivity by giving employees in the big-box retailer's corporate offices more control over their schedules: So long as the work got done, it didn't matter when or where. But Chief Executive Officer Hubert Joly concluded that the program was "fundamentally flawed from a leadership standpoint," and the company moved in March to drop the policy. This happened just after Yahoo! decided to end its work-from-home policy, increasing corporate skepticism over flexible work arrangements.
Now a new study in the Journal of Marriage and Family found that Best Buy's short-lived experiment with very flexible scheduling didn't even increase the amount of time employees spent with their kids.
For working parents who want more family time, it seems complete control over working time isn't necessarily the answer. The report, "Relieving the Time Squeeze? Effects of a White-Collar Workplace Change on Parents," found that Best Buy's Results Only Work Environment program "had no impact on parents' time with children," based on a study of 225 working parents at the company.
Parents who work from home save time commuting, the study suggested, but they still have to juggle work, and children still have after-school obligations. Mothers working at Best Buy under the program spent an average 36.4 hours per week with their children, while fathers spent an average 26.6 hours—about the same as before the program started, says Rachelle Hill, a post-doctoral associate at the University of Minnesota and one of the report's authors.
The flex-time program did improve parents' perceptions of work. The mothers in the survey reported feeling better about the amount and quality of time they spent with their kids. Fathers, on the other hand, did not perceive any change. The report concludes that "there were no positive effects of ROWE, changes in schedule control, or changes in number of days working off site."
The difference between the mothers' perception versus reality could be due to a feeling that they had better control over their schedules—perhaps lingering after breakfast a few extra minutes—an illusion that might have value. "Kids and parents have a lot going on," Hill says. "If parents—particularly moms—feel that they are spending enough time with their children, then it may help parental stress and the family's sense of being rushed or not."
The report points out other benefits of Best Buy's now-defunct program, including reduced employee turnover and improved health behaviors such as exercise. Just don't expect flex time to automatically mean more family time.
Before it's here, it's on the Bloomberg Terminal.
LEARN MORE