What Makes This HTC Phone the One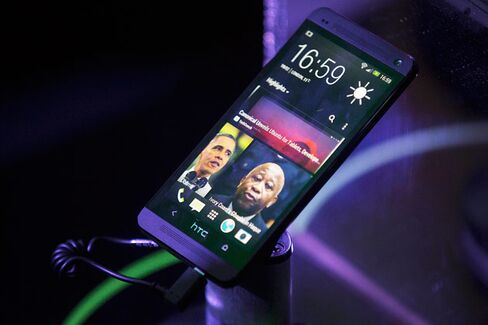 As someone who has used mainly Samsung devices since 2010, I surprised many with a tweet on Saturday that suggested I like the HTC One Google Edition more than I expected. I received a loaner device less than 48 hours ago, but I'm already seriously considering a purchase.
Perhaps this really shouldn't be a surprise, though: I've generally gravitated toward Google's Nexus line of devices with the fast software updates and I like well-designed hardware. In some sense—no pun intended—the HTC One Google Edition meets both requirements.
In the short time I've had the HTC One in hand, I've really come to appreciate the hardware. Samsung's Galaxy S4 uses most of the same hardware components but the One has a more premium look and feel.
There's nothing wrong with the Galaxy S4; again, I've happily used a bunch of Samsung phones and tablets in the past. Samsung says it uses plastics and polycarbonate to allow for consumer-requested features such as a microSD card slot and removable battery. I just don't need those features.
How do I know this? There's no memory expansion in the Samsung-built Galaxy Nexus that I used for more than year. Currently, I'm carrying a Nexus 4 that has neither a microSD card slot nor a removable battery. The HTC One then, isn't a "step back" in these two aspects, at least not for me. And having a relatively pure version of Android on the HTC One is exactly the setup I've used on the two prior Nexus devices, so I get the software environment I like.
Performance on the One is noticeably better than the Nexus 4, which is unsurprising since the new handset has a nice bump in processor and GPU. There's plenty of RAM memory to keep the apps moving. And unlike the Nexus 4, the HTC One works on AT&T's LTE network (with HSPA+ fallback), so I get a mobile broadband boost as well. I like the dual, front-facing speakers and the screen is outstanding.
It's not a perfect experience, though. As we've noted before, the HTC One hardware was designed to run HTC Sense on top of Android, not stock Android. So there are few minor inconsistencies in the user experience: Occasionally, I'll see an overflow menu button taking up valuable screen space unnecessarily, for example. And I can't use Google Wallet with the HTC One, something I often do with my Nexus devices.
While I generally don't mind losing the HTC Sense software, some of it is actually better than Google's. The HTC camera app and its many modes would be nice to see on this phone, but alas: It's "pure" Google, which is a little more limited. Still, I'm getting nice quality shots with the HTC camera hardware, even if it is using Google's imaging software.
There's also hope to mix and match between the two software versions: Paul O'Brien of MoDaCo is working on a custom ROM to switch between HTC's and Google's software for this phone, perhaps even bringing some HTC bits to the Google Experience version.
Even if that doesn't happen, I have no qualms about tweaking my Android phone or using other custom ROMs on the handset to get the experience exactly the way I want. With the Google Edition of the HTC One, HTC has already done most of the heavy lifting in that aspect: Right out of the box, I have a phone that works the way I want it to. And I can't say enough about the hardware; it's superb.
So much so that my wife—who has an iPhone 4S and is due for early upgrade pricing next month—is even considering this device. All of the main apps she uses on her iPhone are available for Android; she already checked. She'd likely opt for the standard HTC One with Sense but it wouldn't take much effort for me to get a stock Android ROM on there if she would prefer it.
Of course, she'd get her handset at the subsidized, lower price. I'll have to pony up $599 for a Google Edition handset. Unless the HTC One loses its luster over the next few days, I think I'll be doing just that.
On a related side note, there's some irony worth pointing out here. In the earlier days of Android, I used to put custom ROMs on my Nexus One in order to get the Sense hardware on the device. I did that because, at the time, I felt Sense brought a better experience. And for some, it still does. I think it speaks volumes, however, that I now prefer stock Android: Google has vastly improved the base software for its mobile platform since the Nexus One.
Also from GigaOM
Where New Opportunity Lies in the Mobile Operating System Space (subscription required)
I Used a 3D Printer for the First Time. Here's What I Learned
Justice Dept. Defends Secret Rulings in New Spy Court Filing
Sometimes, Connectedness Isn't the Answer: Why We Need Offline Gaming
The Massive London Array Offshore Wind Farm Is Finally Done and It's Awesome
Before it's here, it's on the Bloomberg Terminal.
LEARN MORE