Illegal Mines Taint River in Southern China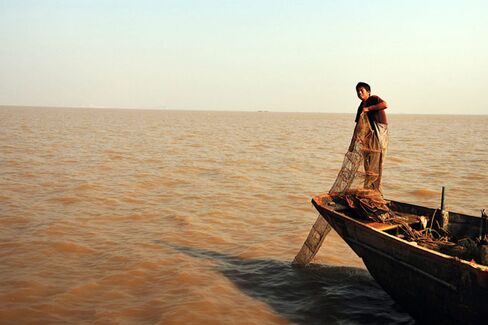 About 30,000 people living downstream of the Hejiang River in southern China will have their regular water supply interrupted for the next three next weeks, following a government investigation of the contaminated river on Saturday.
More than 100 small mines had been operating illegally along one branch of the Hejiang River in China's poor Guangxi province. Recent heavy rains swept unsecured industrial waste from the mining sites, then dumped the dangerous slag laced with cadmium and thallium into the river, which supplies drinking water to downstream residents. "About 110 km of the river is polluted now," Xu Zhencheng, vice-director of the South China Institute of Environmental Sciences and leader of a pollution task force appointed by the local government told the China Daily newspaper on Monday. Both cadmium and thallium are known carcinogens. Over the weekend, the local government closed 112 nearby illegal mines.
Guangxi, one of China's poorest provinces, has a longstanding problem with illegal mines, due to both spotty regulatory oversight and limited economic alternatives. Meanwhile, rivers flowing through Guangxi feed into the Pearl River Delta watershed in wealthy Guangdong province, Guangxi's richer southern neighbor.
The economic disparity between two provinces along a watershed is not wholly unique. In 2012, neighboring Anhui province, which is poor, and wealthy Zhejiang province formed an agreement to protect the water quality of the Fuchun River, which each province depends on. Zhejiang now subsidizes local authorities' efforts in Anhui to monitor industry operating on or near the river.
The imperative of protecting and restoring water quality has received increased attention from China's central government in recent years. As Nature magazine reported on July 3, Beijing has committed 500 million renminbi ($80 million) to groundwater cleanup campaigns in northern China, the country's breadbasket. Still, one of the many challenges in safeguarding water supplies is taming the thousands of small actors involved: After all, it was diseased pigs raised on numerous farms in provinces upstream of Shanghai that wound up floating morbidly down the city's Huangpu River this spring.
Before it's here, it's on the Bloomberg Terminal.
LEARN MORE