Jeter Starts Rehab After Broken Ankle, Rodriguez Gets First Hit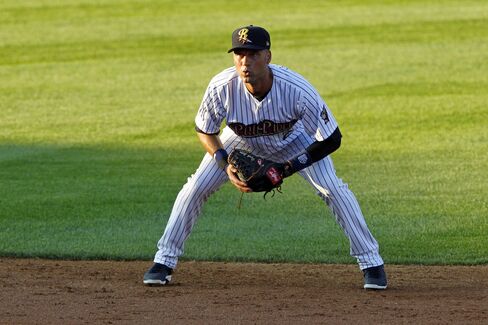 New York Yankees shortstop Derek Jeter went 0-for-2 with a walk in his first minor league rehabilitation game since breaking his ankle, while third baseman Alex Rodriguez got his first hit in three games.
Jeter played five innings last night with the Triple-A Scranton/Wilkes-Barre RailRiders for the first time since Oct. 13, when he broke his left ankle in the American League Championship Series. He re-injured the ankle in spring training.
"I missed being around the team, I missed competing, I missed playing," Jeter told reporters. "So I'm happy that I'm getting the opportunity to start playing again."
Jeter, 39, started as shortstop in the RailRiders' 4-2 win against the Lehigh Valley IronPigs in Moosic, Pennsylvania.
Rodriguez, who was hitless in his first four appearances in two rehab games, was 1-for-2 last night with the Yankees' Class A Tampa minor-league team who beat the Brevard County Manatees 6-1 in Melbourne, Florida.
Rodriguez, 37, is recuperating from hip surgery in January.
Before it's here, it's on the Bloomberg Terminal.
LEARN MORE