Jobs Report Gives Bernanke Reason to Stick With Tapering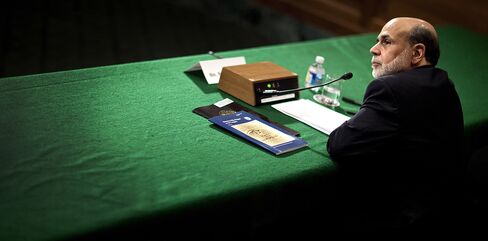 Employers added more jobs in June than forecast as the U.S. economy shook off the effects of fiscal restraint, giving Federal Reserve Chairman Ben S. Bernanke reason to stick to his plan of slowing record monetary stimulus this year.
Payrolls rose by 195,000 workers for a second month, the Labor Department reported yesterday in Washington, exceeding the 165,000 median forecast of economists in a Bloomberg survey. The jobless rate held at 7.6 percent, close to a four-year low.
Hourly earnings in the year ended in June advanced by the most since July 2011, giving Americans already buoyed by higher home prices more reason to boost their spending, which accounts for 70 percent of the economy. Economists at Goldman Sachs Group Inc. and JPMorgan Chase & Co. said after the figures the Fed will begin tapering sooner than they had projected.
"The June numbers together with the upward revisions should make a September tapering by the Fed the central scenario for the consensus" among economists, said Neil Dutta, head of U.S. economics at Renaissance Macro Research LLC in New York, who projected a 190,000 gain in payrolls. "The improvement in employment and the improvement in wages suggests aggregate incomes are rising quite nicely."
Stocks rose and Treasuries sank, sending the 10-year yield to the highest since August 2011, while the dollar rallied as the report fueled bets the Fed will begin to reduce the $85 billion-a-month in bond buying intended to fuel growth and put more Americans back to work.
"This just reinforces the view that the Fed can get the first initial cutback in asset purchases out of the way in September," said Lou Crandall, chief economist at Wrightson ICAP LLC in Jersey City, New Jersey. To derail the Fed's plans, July and August data "would have to be really bad, and it would have to be bad in a way that raised doubts about economic activity as a whole."
Fed Meeting
Fed officials next meet July 30-31 in Washington, yet they will not update their economic forecasts, and Bernanke isn't scheduled to hold a press conference after that meeting. By the time of the September meeting, the Labor Department will have published jobs reports for July and August, giving the Fed more information to make a decision.
The Labor Department yesterday also revised up employment counts in April and May by a combined 70,000. Private employment increased 202,000 last month after a 207,000 gain.
Unemployment held at 7.6 percent for the second month after falling to 7.5 percent in April, the lowest rate since December 2008. The Labor Department's household survey, which is used to calculate the jobless rate, showed that more people entered the labor force and most were able to find work.
Retailers Hiring
Retailers, professional and business services, health care, and leisure and hospitality companies led job gains in June, according to the Labor Department's survey of businesses. More than half of the jobs created last month were at lower-paying businesses such as shops, restaurants and hotels. The number of part-time workers rose for a third straight month, to almost 28.1 million in June from 27.7 million.
Still, average hourly earnings were $24.01, up 0.4 percent from May. They advanced 2.2 percent from a year ago, the most in two years.
The labor market has improved enough to encourage some workers to switch jobs. Among them is Brian Lambert, 44, who last month joined Red Robin Gourmet Burgers Inc., a chain based in Greenwood Village, Colorado, as director of loyalty programs.
"There seem to be a lot of jobs available, it's just a matter of finding the right job," he said.
Construction Companies
Construction companies added 13,000 jobs, the most in three months, while automakers boosted employment by 5,100 workers, the biggest gain in four months. Hiring at auto dealerships and home-improvement stores also picked up, the report showed.
New vehicles are selling rapidly as Americans replace aging cars and a rebound in housing construction moves trucks off dealer lots. Sales beat estimates last month, giving a lift to General Motors Co. and Ford Motor Co. and boosting hiring at dealerships.
"We would take 10 sales people in a heartbeat," said Don Hicks, owner of Shortline Auto Group in Aurora, Colorado, which employs about 150 people at four dealerships. "If they were available and trained, or trainable, we'd take another five or six technicians. It's crazy trying to find people."
Auto sales climbed to a 15.9 million annualized pace in June, exceeding the 15.5 million median estimate of economists surveyed by Bloomberg, according to data from Ward's Automotive Group. That's the best monthly pace since 16.1 million in November 2007 and compares to 14.3 million a year earlier.
"We're a little island of prosperity," Hicks said. "We're leading the country out of recession."
Manufacturing Employment
Other manufacturers aren't doing as well as the recovery struggles against weakness overseas and federal budget cuts that began in March. Factories reduced payrolls by 6,000 in June.
Bernanke said last month the central bank may start reducing the pace of bond buying this year and end the purchases around the middle of next year. He said he expects the jobless rate to be around 7 percent when the Fed stops its stimulus.
The underemployment rate -- which includes part-time workers who'd prefer a full-time position and people who want to work but have given up looking -- rose to a four-month high of 14.3 percent in June from 13.8 percent. The advance included an increase in the number of people working part time but desiring full-time employment.
Courtney Herlihy, 27, district manager at BeStyled, a chain of niche beauty bars that offer blow drying, is looking to hire 60 to 90 people in the next year, including receptionists and managers. The company, based in Needham, Massachusetts, is getting resumes from people with years of experience in medicine and finance.
"A lot of those people who have management experience are not finding jobs, so they're applying in the beauty industry," she said. "They're having a hard time getting jobs in their previous field."
Before it's here, it's on the Bloomberg Terminal.
LEARN MORE