John Paul II Set for Sainthood as Two Living Popes Collaborate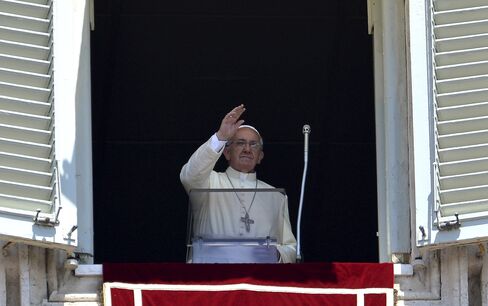 John Paul II was approved for sainthood as his two successors as pope, Francis and the retired Benedict XVI, published an encyclical today in efforts to reach out to more than 1 billion Catholics.
Francis, elected in March, took Benedict's notes on the virtue of faith and polished them into the encyclical, an 82-page letter to bishops that urges Catholics to promote their relationship with God in their secular lives. John Paul was placed on the track to sainthood when Francis today certified a second miracle attributed to the deceased former pontiff.
The outreach to Catholics comes as Francis, 76, deals with a money laundering investigation at the Vatican's bank and the church's child abuse scandals in the U.S. continue to make headlines. While those challenges weren't addressed in the encyclical, Francis wrote that faith is the foundation that keeps organizations from falling apart.
"Modernity sought to build a universal brotherhood based on equality," Francis wrote in his first encyclical, "The Light of Faith," published today. "Yet we gradually came to realize that this brotherhood, lacking a reference to a common Father as its ultimate foundation, cannot endure."
John Paul, beatified in 2011 under Benedict, was certified at that time with a miracle for the cure of a French nun from Parkinson's disease. The Vatican bulletin today didn't provide details of the second miracle. Radio Vaticana reported that it was the curing of a woman in Costa Rica from a brain aneurysm.
Pope John XXIII was also cleared for sainthood today by Francis. The pope decided to convene a meeting of cardinals that will canonize both former pontiffs.
Friedrich Nietzsche
The encyclical began as a first draft written by Benedict, the Pope Emeritus, who resigned from the post in February for health reasons. In the text, signed by Francis alone, the pope cited Friedrich Nietzsche and T.S. Eliot as he argued that reason, the pursuit of profit and government are unequal to delivering happiness without God. He also reiterated the definition of marriage as a union between a man and a woman.
"Faith also helps us to devise models of development which are based not simply on utility and profit, but consider creation as a gift for which we are all indebted," Francis wrote. "It teaches us to create just forms of government, in the realization that authority comes from God and is meant for the service of the common good."
The views on the limits of government resonate as Egypt was riven by a coup that pitted the forces of the military-appointed government against a disenfranchised Islamist faction.
Money Laundering
The Vatican's bank, known as the Institute for Works of Religion, or IOR, was dragged into a money-laundering investigation carried out by Italian authorities and a senior cleric, Monsignor Nunzio Scarano, was arrested last week. Sex abuse by priests in the U.S. was in the papers this week as news sources including the New York Times reported Cardinal Timothy Dolan protected church assets from lawsuits by moving funds into a cemetery trust in 2007.
The letter on faith, one of three theological virtues, completes Benedict's work. He addressed the other two, charity and hope, in two previous encyclicals. The first encyclical of a pontificate typically signals the direction in which a new pope will take the church. Prelates at a conference today in Rome stressed that it fully reflected the current pope's ideas.
"It's not signed by two popes because we have just one pope," Monsignor Gerhard Muller said.
Poverty and Simplicity
Nietzsche's godless search for truth was characterized by Francis as aimless wandering. The pope endorsed the disdain for mundane achievement affected by T.S. Eliot in "Choruses from the Rock." In the letter, the pontiff lauds Saint Francis of Assisi and Mother Theresa for their ministry to the suffering.
The pontiff, formerly Cardinal Jorge Mario Bergoglio of Argentina, has weighed in on issues such as poverty and simplicity since his election in March. In today's encyclical, Francis also addressed the dialogue between faith and science, the importance of evangelization and the role of the church.
"It is impossible to believe on our own," the Argentinian pope wrote in the missive. Faith is not simply an individual decision, by its very nature it's "open to the 'we' of the Church; it always takes place within her communion."