Krona Plunge Not Overdone as Losses Aid Goals, Ingves Says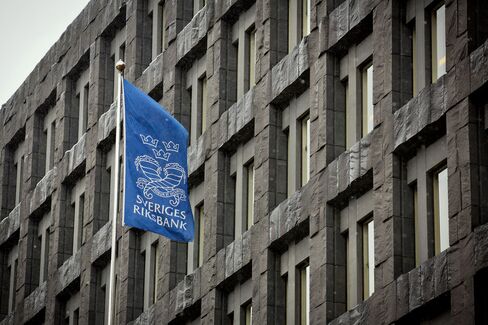 Last month's plunge in the krona hasn't driven Sweden's currency down to a level that is out of step with its long-term exchange rate, Riksbank Governor Stefan Ingves said.
"The krona is around the level where it ought to be," Ingves said in an interview in Stockholm, following an announcement from the bank that it kept its repo rate at 1 percent. "It's not a disadvantage from an inflation target perspective that the krona has weakened a bit."
The krona slumped to its lowest in a year last month after signals from the U.S. Federal Reserve it was preparing to scale back stimulus triggered a surge in volatility across most markets. The Riksbank today repeated its forecast that it won't start tightening policy until the second half of next year as it steers a recovery in the largest Nordic economy.
"The krona, in a technical forecasting sense, will strengthen a bit but that means that the krona is not a main issue at the moment," Ingves said. "When there has been uncertainty in the world for various reasons and in the financial markets, the krona has weakened many, many times before. If it's the same phenomenon this time is hard to say."
The krona traded 0.3 percent stronger against the euro at 8.7076 as of 4:08 p.m. in Stockholm. It was also up 0.3 percent versus the dollar, and traded at 6.7068.
Household Debt
Sweden's $540 billion economy, home to Ericsson AB and Electrolux AB, is starting to recover from last year's export-induced slump. Manufacturing has picked up and unemployment fallen after the economy grew more than predicted in the first quarter. Low rates have also helped fuel faster borrowing, reigniting concerns over financial imbalances as debt grows.
"Household debt will generally stay at a high level," Ingves said. "A level at which we think is a worry; as far as we can tell, households' debt will continue to rise a bit."
Two of the bank's six board members, deputy governors Karolina Ekholm and Martin Floden, voted for a rate cut to 0.75 percent and argued that the Riksbank should not start raising the rate until the second half of next year.
"The Swedish economy is on the way to a recovery," the Riksbank said today. "Households' finances are relatively strong. Low interest rates and rising employment have contributed to good growth in incomes preparing the ground for continued steady growth in consumption."
The krona has lost 4.5 against the euro since the Riksbank's April meeting, helping policy makers bring inflation back toward the 2 percent target and boosting exports. The Riksbank has cut the rate four times in the year through December 2012 to foster growth in the economy, which relies on exports for about half of its output.