Egypt Crisis Deepens as Mursi Refuses to Step Down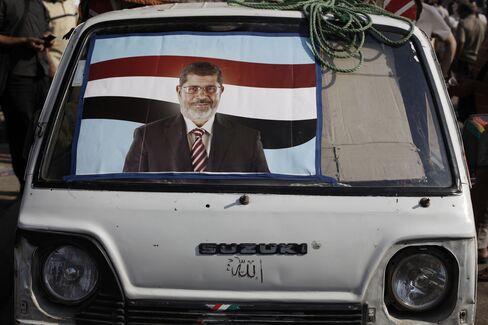 Egypt's military leaders met in an emergency session as their deadline for ending the nation's political crisis loomed, a showdown that could drive President Mohamed Mursi from power even as he vowed to defend his office with his life.
The July 1 ultimatum gave Mursi 48 hours to end the turmoil roiling Egypt or have a solution imposed by the military. The deadline was set to expire at 5 p.m. Cairo time, state television reported, hours after the Islamist leader rejected opponents' demands he resign.
Mursi's defiance prompted a swift response from the military, which stated it was ready to sacrifice itself in the fight against "fools."
The showdown is pitting the country's first democratically elected president against detractors who claim he's sold out the goals of the 2011 uprising against Hosni Mubarak to advance Islamist interests. Clashes between his supporters and critics left at least 18 dead and 619 wounded over the past 24 hours, said Ahmed El-Ansari, deputy head of the national ambulance service.
Ready to Sacrifice
"If the price of safeguarding legitimacy is my own blood, I am ready to sacrifice it," Mursi said in a late night televised speech yesterday. "There is no alternative to constitutional legitimacy."
The military leaders would "probably" issue a statement after the deadline expires, Ahmed Mohamed Ali, the military's spokesman, said by phone. The military later said on Facebook that it had set no specific time for announcements. The crisis has reverberated internationally, helping to send send West Texas Intermediate crude oil prices above $100 a barrel for the first time since September.
The state-run Al-Ahram newspaper summed up the stakes in a headline reading: "Today: Removal or Resignation." The newspaper reported, without saying where it got the information, that if Mursi didn't resign, he may be forced to leave office. The military plan would also include replacing the country's constitution and installing an interim government to be headed by a military leader, Ahram said.
Won't Suffer Fools
The military leadership met hours after Mursi rejected calls for his resignation. The armed forces took an equally hard line in response.
"We swear to God that we will sacrifice for Egypt, and its people, our blood against all terrorists, extremists or fools," the military's top brass said on a Facebook page affiliated with the Supreme Council of the Armed Forces.
The comments underlined the perception that the military, like Mursi's critics, wearied of the polarization and upheaval in the country under his stewardship. The military invited Nobel peace laureate and opposition leader Mohamed ElBaradei, Coptic Pope Tawadros II, members of the Brotherhood's Freedom and Justice Party and other political leaders to discuss a blueprint for the future, the state-run Ahram Gate website reported.
Mursi showed little inclination to capitulate to protester demands, expressed since June 30 by hundreds of thousands of critics rallying in Egypt's streets. In his speech, he said he derived his legitimacy from last year's election, and earlier, he posted on his Twitter account a call for the army to rescind its ultimatum, and emphasized his rejection of any "foreign or domestic dictates."
Army's Plan
Ali, the Egyptian army spokesman, said it was "too early" to talk about the army's plan, saying the deadline's existence didn't mean the military had decided what to do.
"After the deadline, the army will call different parties for talks to set the road map," he said by telephone. "The army will not set the road map unilaterally."
The protests against Mursi and his defiance recalled the unrest that gripped Egypt before Mubarak was pushed from power. Isolating him further were a slew of resignations, including at least five Cabinet ministers and three government spokesmen, over the past couple of days.
For the secularists, youth activists and others who have massed against him, Mursi lost his legitimacy with what they say were repeated attempts to entrench the Islamists' power at the expense of the nation's need for an economic revival and social justice.
Civil War
"Instead of announcing his resignation upon popular demand," Mursi's comment on Twitter "is clearly pushing the country to the brink of civil war," Khaled Dawoud, spokesman for the National Salvation Front opposition bloc, said in a telephone interview. "Mursi is again acting as a president for the Muslim Brotherhood only, and not for all Egyptians."
While many opponents welcomed the ultimatum, Mursi's Islamist backers responded by pledging to stand firm against what they saw as a threat of a military coup.
"I don't allow or accept anyone saying things that run contrary to legitimacy or taking any steps or measures that upset this legitimacy," Mursi said in his speech.
"That is unacceptable," he said three times. "Legitimacy is the real, and only guarantee to ensure that there is no violence."
His critics showed little inclination to factor Mursi into any program in the future.
Mursi's "days as Egypt's president are probably numbered," Eurasia Group Mideast analyst Hani Sabra said in e-mailed comments. "While there is still an opportunity for a negotiated settlement, it is becoming less likely."
Before it's here, it's on the Bloomberg Terminal.
LEARN MORE