Ducasse Says Making Chocolate Is Like Cooking Carrots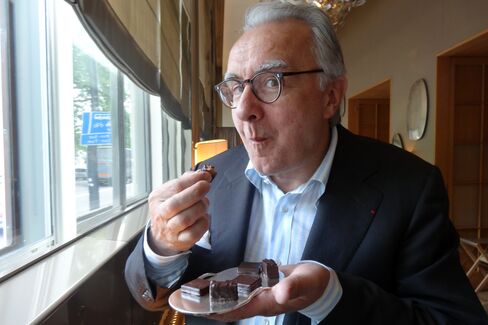 July 3 (Bloomberg) -- Making chocolate is not very different from preparing gourmet dishes, says Alain Ducasse, who has a new passion after opening more than 20 restaurants around the world.
"It's the same with cocoa beans and carrots," says the chef, who is planning to expand his chocolate business from a single store in Paris and says he hopes to bring it to London.
"You take the best ingredients -- the best cocoa beans -- and you process them in the best traditional way and you have the best chocolate," he says. "In cooking, you try to preserve the original flavor."
Ducasse, 57, says he almost became a chocolatier rather than a chef after falling in love with the craft 30 years ago while working under the pastry chef Gaston Lenotre.
What took him so long?
"I didn't have the time to do it before," says Ducasse, who is adding an outlet at Galeries Lafayette in Paris on July 15 to the factory he has opened in Bastille. He plans to sell online and serves the chocolates at Alain Ducasse at the Dorchester (London), Plaza Athenee (Paris), and Le Louis XV (Monaco).
"In France, I am the fifth artisan to produce his own chocolate, and the others have been doing it for a long time," he says. "None is in Paris. The challenge was to find the craft machines that don't really exist anymore. It's a different job and art to make these machines compared with the modern ones. I'm a million times smaller than Cadbury, for example."
Ducasse and his chocolate maker, Nicolas Berger, produce ganaches, pralines, truffles and bars, with the focus on beans from single countries, including Vietnam and Venezuela.
Rum, Sherry
In a tasting at the Dorchester, the chocolates were matched with Diplomatico Reserva Venezuelan Rum, XM 12-year-old rum, Chateau Filhot Sauternes 1997 and Lustau East India Solera Sherry. There are worse ways of spending a morning.
The first thing that strikes you when eating them is how distinct the flavors are between the various countries of origin, including Madagascar, Venezuela, Peru and Trinidad, from the smokiness of the Java to the aroma of the Vietnamese.
Such luxury doesn't come cheap: A box of 21 chocolates retails for 28 euros ($36.50) in France.
If you think that's expensive, Ducasse was in London to cook a dinner with the Californian chef Wolfgang Puck showcasing contemporary French and American cuisine. The price for five courses with French and U.S. wines: 350 pounds ($535).
Respected Professor
Ducasse operates restaurants from Las Vegas to Tokyo, via St. Petersburg and Doha. While he's one of the world's most respected and admired chefs, he is softly spoken and charming, with the amused air of a benign college professor.
I've interviewed him in Doha, New York and London. He's always courteous, always engaged.
A few days before the tasting, I watched him in action in Monaco, where he hosted a lunch and reception for the 150th anniversary of Monte Carlo SBM, the company that owns Hotel de Paris, home to his three-Michelin-star restaurant Le Louis XV.
(Societe des Bains de Mer was founded in 1863 by a sovereign decree passed by Prince Charles III.)
Wines at the lunch on the terrace included Chateau Latour 2007 Pauillac 1er grand cru classe and Petrus 1999 Pomerol. Caviar was served. In the evening, Prince Albert II attended a 150-wine tasting with chateau owners from Bordeaux. (All 150 grands crus wines will be available by the glass until Nov. 19.)
Afterwards, he lingered on the red carpet to talk with Ducasse as tourists gathered to watch and security men scanned the crowd on Casino Square in the heart of Monte Carlo.
"The prince is a supporter," Ducasse said. "He likes beautiful wines. He's very interested to meet people who are passionate about wine, like the chateau owners. He had to go on to another meeting, or he could have stayed all night. It was fantastic."
Le Chocolat Alain Ducasse, Manufacture a Paris, 40 rue de la Roquette, 75011 Paris. Information: +33-1-4805-8286.
(Richard Vines is the chief food critic for Muse, the arts and leisure section of Bloomberg News. He is U.K. and Ireland chairman of the World's 50 Best Restaurants awards. Opinions expressed are his own.)
Muse highlights include Manuela Hoelterhoff on arts, Richard Vines on food and Greg Evans on movies.
To contact the writer on the story: Richard Vines in New York on rvines@bloomberg.net or http://twitter.com/Richardvines.
To contact the editor responsible for this story: Manuela Hoelterhoff at mhoelterhoff@bloomberg.net.