Cars Made in the USA Gain Traction Abroad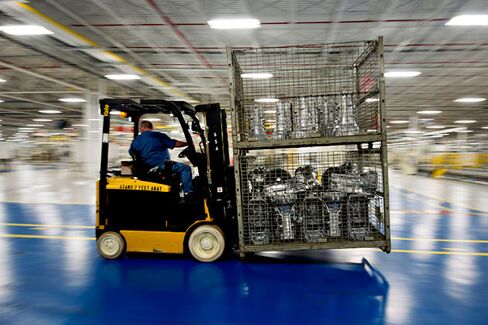 Major car makers are expected to report an additional month of bullish U.S. sales today, as June numbers are rolled out, but demand from abroad may be even more encouraging for Ford, Honda, BMW and all the other companies bolting together cars in the U.S.
The Wall Street Journal has a smart piece (subscription required) detailing the myriad ways the U.S. has become "an export powerhouse." Here's the evidence:
• Last year, more than 1 million cars and light trucks were exported from U.S. plants—a record and a more-than-threefold increase over 2003 levels.
• By 2015, Chrysler will be sending 500,000 vehicles a year abroad, roughly double its export levels in 2012.
• Autos make up just 14.5 percent of the U.S. trade deficit now, down from 22 percent in 1987.
What's pushing cars overseas? A relatively weak dollar—which makes U.S.-made goods more competitive overseas—and more efficient plants. The painful retooling that U.S. factories underwent in the financial crisis tightened labor costs and shuttered unproductive factories. In 2011, the average U.S. auto worker collected $38 an hour in pay and benefits, according to the Journal. That's right in line with workers in Japan and way less than Germany's $60 hourly compensation.
Uncle Sam's car factories, however, are still a long ways from parity. Here's a look at the balance of trade in cars and car parts since 1999. The bottom line is exports, the top line is imports.) The little fishhook at the top is good news for U.S. workers, but there's a lot of ground to cover.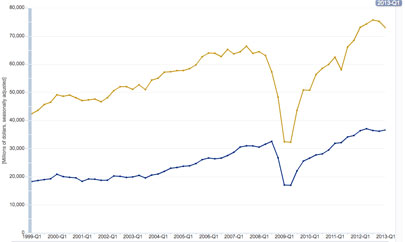 Before it's here, it's on the Bloomberg Terminal.
LEARN MORE