Serena Williams Falls, Wimbledon Turns Totally Nuts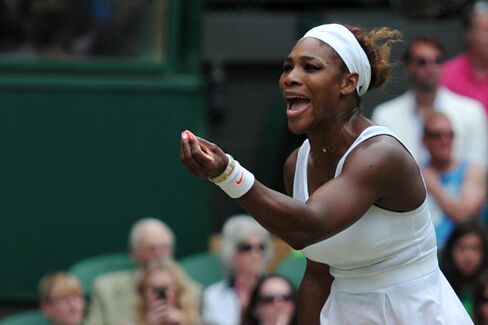 A German player of modest renown eliminated defending champ Serena Williams during Wimbledon's "Manic Monday," which has turned out to be totally nuts.
They call it "manic" because all 16 fourth-round matches are scheduled on the same day. In a Wimbledon already marked by breathtaking upsets, Sabine Lisicki's three-set shocker over Williams, the top seed, makes this the zaniest edition of the world's most prestigious tennis tournament in memory. Lisicki beat Williams 6-2, 1-6, 6-4 on Centre Court of the All England Club in southwest London, ending a 34-match win streak for the five-time Wimbledon champion. "I'm still shaking, I'm so happy," Lisicki said in a televised interview. Then she burst into tears.
Before the match, many observers were predicting an effortless Williams march to the final. The New York Times mused about how the 31-year-old American's surge this year began with a switch from cow-gut strings to a mixture of gut and synthetic strings. Oops.
Looking much better was Danielle Rossingh of Bloomberg Sports. She filed a prescient dispatch on June 30 foreshadowing a possible Lisicki surprise. Rossingh noted the freakish fact that at three of the past four Wimbledons, the 24th-ranked German has knocked out the reigning French Open champion. Williams won this year's French Open, and Lisicki is now four out of the last five.
Williams seemed to sense something bad might be in the offing. "She always pulls an upset," Williams noted of Lisicki beforehand. "It will be a really tough match for me." As Rossingh noted:
Lisicki, 23, has produced 202 aces this season, second only to Williams, who has 292. Her powerful game got the better of then-French Open winner Svetlana Kuznetsova of Russia at Wimbledon in 2009, China's Li Na in 2011 and Maria Sharapova of Russia last year.
So what the heck is going on at Wimbledon? A record number of top-10 players fell during the tournament's first week. They included defending men's champion Roger Federer, two-time winner Rafael Nadal, and former women's champ Sharapova. On June 26, no fewer than seven players quit matches because of injury (also a record), and that prompted the British press to dub the day "Wipeout Wednesday."
A lot of speculation focused on the condition of the All England Club's famous grass courts. This year's tournament is the first since the retirement of the club's longtime head groundsman. Tournament officials vehemently denied there was anything strange about the sod, and a number of players pointed out that during the first week the grass is always more lush and therefore slippery. Williams's defeat at the beginning of the second week, by which point the courts are scuffed up and the footing is less tricky, would seem to undercut the bad-grass theory.
A better explanation may be that even revered champions begin to falter with age or injury. The elegant Federer, 31, is fading. Nadal, 27, still has fire but his knees are failing. On her good days, Williams is unbeatable, but she's obviously in the final third, or maybe quarter, of a glorious career. All good things come to an end.
Before it's here, it's on the Bloomberg Terminal.
LEARN MORE