You're a Gay Couple. Now What Do You Do?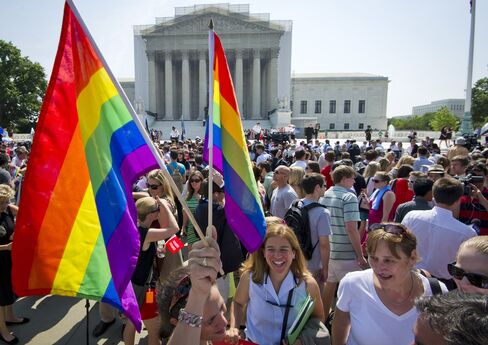 For same-sex couples, the Supreme Court's gay marriage decisions have an immediate dollars-and-cents impact.
In two rulings yesterday, the court cleared the way for gay marriage in California and struck down the core of the Defense of Marriage Act (DOMA), a federal law that denied benefits to married same-sex couples. For DOMA plaintiff Edith Windsor, the ruling means she'll get back the $363,000 plus interest that the U.S. took in estate taxes when her wife died. For other same-sex couples, her victory means access to the 1,100-plus federal marriage benefits previously denied them, from Social Security and health insurance to federal pensions and the right to sponsor spouses for immigration. Many married gay couples will be able to file federal taxes together for the first time, bringing tax cuts for some and increases for others.
It may be months or years before all the details are settled -- particularly the question of which benefits will be available to gay couples living in states that don't recognize their marriages. In the meantime, here are three obvious effects of yesterday's rulings on same-sex couples.
1. The economic and financial incentives to get married just went way up.
"A lot of these older gay couples who have been waiting on the sidelines are going to get off the dime," says Boston attorney Scott Squillace. While Massachusetts legalized gay marriage in 2004, some of Squillace's clients still saw those unions as "marriage lite," because they weren't recognized by the federal government.
Marriages recognized on a state and local level can be enormously important to couples when one person dies or needs medical treatment, or when the couple has children. It also makes administrative details like owning property together much easier. What it doesn't do is level the economic playing field with heterosexual couples by providing access to Social Security survivor benefits, federal pensions or estate tax exemptions -- programs with meaningful financial impact.
How much do these sorts of incentives really influence the decision to get married? It's hard to ignore an $8,000 annual bill for health insurance. That's how much Minneapolis small-businessman Tim Meyer, 50, must pay because he can't be included in the coverage his partner, Mark, gets as a teacher. If they get married, though, it might have more to do with the desires of their three teenage sons than insurance or other perks. "We want equal treatment," Meyer says. "We don't want [financial considerations] to be the reason why we're getting married."
2. Where you live matters more than it ever did.
Those lucky enough to live in states that recognize their marriages are upgraded to full state and federal benefits based on the DOMA ruling. Those who don't live in such states remain in much the same situation as before.
Geography could play a big role in how the federal government implements the Supreme Court's ruling. Social Security, for example, recognizes marriages based on the policies of the state where a beneficiary lives, says Peter W. Martin, a Cornell University law professor who specializes in the entitlement program. That means that two men married in Massachusetts but living in Florida, which bans gay marriage, likely wouldn't get spousal benefits.
The Supreme Court's DOMA decision could create stark contrasts. In Pennsylvania, for example, a same-sex couple gets no recognition at all. If they get married out of state, they can't even file for divorce in Pennsylvania, which is a major inconvenience, says Julia Swain, a partner at law firm Fox Rothschild LLP in Philadelphia.
If the married couple moved to Philly's New Jersey suburbs, however, their same-sex marriage would be recognized as a civil union. And starting this summer, crossing the river to Delaware would get them full marriage rights -- local, state and federal. In the same way that people choose where to live based on schools, says Swain, "gay couples should consider moving to a gay-friendly state."
The hope for same-sex couples in states that don't recognize their marriages is that the language in some federal statutes doesn't base eligibility on state recognition. The Obama administration may be aggressive about extending to couples in all 50 states as many federal benefits as possible. Defense Secretary Chuck Hagel issued a statement yesterday saying the military "intends to make the same benefits available to all military spouses -- regardless of sexual orientation -- as soon as possible."
If these and other federal benefits are applied to all married couples everywhere, expect even more destination weddings to the 13 states (along with Washington, D.C.) that let gays and lesbians tie the knot.
3. Almost all gay and lesbian couples must still deal with major and costly hassles that don't afflict heterosexual married couples.
Emily Hecht-McGowan, 38, is among the people getting the biggest boost from the Supreme Court decisions. She and her wife, Sharon, live in Maryland, which fully recognizes their marriage. Her wife is a federal employee, meaning Emily can now be covered under her health insurance if necessary, and gets access to her federal retirement benefits. Those are a big deal, because the birth of their daughter in October got them thinking seriously about their financial safety net.
"We now have access to all the protections other couples have as they age," says Hecht-McGowan, who is the director of public policy for Family Equality Council, an advocacy group for gay and lesbian families.
Despite this, they and almost all same-sex couples need to take precautions. Big potential problems come up with travel, because of the threat of an accident or health emergency while they're in a state that doesn't recognize their marriage. "Even though DOMA has been rendered unconstitutional, when my wife and I travel over the border to Virginia, we aren't recognized in any way," Emily says.
After she gave birth to their daughter, Sharon needed to go to court to adopt her. Both keep a variety of legal documents on a zip drive on their keychains just in case problems arise. With 35 states banning gay marriage, "there is a lot of work left for us to do," Emily says.