Now a Gay-Owned Business Is a Family Business. Is More Government Work Next?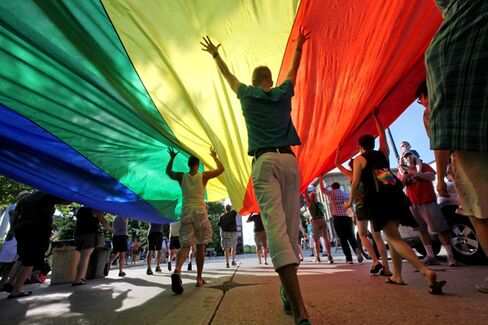 Yesterday the Supreme Court struck down federal law defining marriage as a union between heterosexual partners—a ruling that gives same-sex couples tax and insurance benefits and makes it easier to transfer property between spouses.
A bigger boon for gay-owned businesses with something to sell to government, writes Inc.'s Jeremy Quittner, would be inclusion in a federal program that helps socially and economically disadvantaged small businesses compete for government contracts.
It that really possible?
The idea of supplier diversity goes back to the civil rights movement, when government agencies and large companies started setting goals of giving a certain percentage of contracting jobs to minority-owned businesses. Today, government agencies are supposed to try to award 5 percent of contracts to women-owned small businesses, and 5 percent to small disadvantaged businesses through the Small Business Administration's 8(a) program, which helps businesses owned by blacks, Hispanics, American Indians, and Asian Americans.
(Of course, federal agencies rarely hit their small business contracting targets, and as a congressional report earlier this week made clear, programs that give certain types of businesses preferential treatment when competing for federal jobs are vulnerable to graft.)
Gay-owned businesses could conceivably fit the small disadvantaged business designation, says Justin Nelson, president of the National Gay and Lesbian Chamber of Commerce (NGLCC). "There's a history of discrimination, and I think yesterday's ruling reinforced that," he says. But getting LGBT businesses the same preferential treatment enjoyed by businesses owned by ethnic minorities would require new law. That's not likely to happen while Republicans control the House. Still, Nelson says there are reasons to hope that gay-owned businesses are getting a bigger piece of the contracting pie.
Since 2004, the NGLCC has certified businesses as LGBT-owned, a starting point for taking advantage of supplier diversity programs. About 150 Fortune 500 companies accept NGLCC certification, according to Nelson. Meanwhile, the organization has signed memorandums of understanding with the Department of Commerce and the SBA to expand opportunities for gay-owned businesses to procure contracts from those agencies. The NGLCC is working on MOUs with other federal agencies, including the Department of Labor, and Nelson says certification has created a "booming" network of gay-owned businesses that buy goods and services from each other.
Going forward, Nelson says his organization hopes to show that there's agency support for increasing contracting to LGBT businesses. An executive order from President Barack Obama could help gay-owned businesses compete for federal jobs. (Separately, a group of organizations published a report earlier this year asking the president to sign an executive order prohibiting federal contractors from discriminating based on sexual orientation.) Yesterday's Supreme Court ruling "isn't a full victory," Nelson says. "But at least now we can say that a LGBT-owned business is a family business."
Before it's here, it's on the Bloomberg Terminal.
LEARN MORE