King Recovers From Northern Rock Stumble to Leave BOE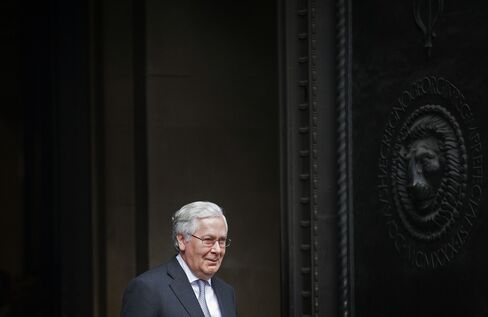 Bank of England Governor Mervyn King retires in two days after a career that saw a decade of economic calm before a struggle with a financial crisis that initially threatened to end his leadership.
After becoming the bank's chief economist in 1991, King pushed to revamp operations for a new inflation-targeting regime. While that helped slay the price volatility that plagued the U.K. over the previous two decades, it wasn't enough to damp financial excesses that burst with the crisis of 2008.
King, 65, now hands an enhanced BOE to Mark Carney on July 1 after 10 years at the helm of U.K. policy making. While his willingness to embrace radical stimulus helped steer Britain clear of a depression after the collapse of Lehman Brothers Holdings Inc., there were also clashes with the government and criticism of his initial response to the crisis and failing to prevent a run at Northern Rock Plc.
"He's had an almost impossible situation to deal with -- an unprecedented situation -- and he's steered and guided the economy through that," said Norman Lamont, who introduced the idea of the inflation target as chancellor of the exchequer in 1992. "There will be arguments about Northern Rock for years to come, but by and large the record's been pretty good."
Crisis Clashes
King, who studied at Cambridge University and Harvard, moved to the BOE from the London School of Economics, where he worked on macroeconomics and tax policy.
As King was promoted to deputy governor and then governor in 2003, the U.K. enjoyed what he described as a "NICE" decade, an acronym for non-inflationary consistent expansion. The economy had its longest stretch of economic growth in more than a century during that period.
That ended when a squeeze on interbank lending sparked a run in 2007 at mortgage lender Northern Rock. King said banking laws prevented a covert rescue and he refused to relax money lending standards for fear of creating a "moral hazard" and encouraging excessive risk taking.
The stance led to clashes with then Chancellor Alistair Darling, who called King "incredibly stubborn" and considered not reappointing him in 2008 for a second five-year term.
Inside the BOE, King's style led to conflict. He faced a revolt from policy makers he kept out of the loop on an emergency plan to spur lending, two people with knowledge of the matter said last year. Former MPC member Adam Posen said in January that King exerted too much power that went unchallenged.
'Not Alone'
Charles Goodhart, one of the founding members of the Monetary Policy Committee when the BOE gained independence in 1997, said King wasn't the only policy maker to underestimate at first the potential scale of the turmoil.
"Virtually all central bankers were relatively slow to appreciate the emerging problems in 2007 and 2008," Goodhart said. "But like many others, Mervyn has been innovative, original and really quite daring in response to the crisis that came upon us with a flood after the Lehman failure."
After the initially sluggish response, the unfolding recession prompted greater action from King. The BOE cut the key interest rate to a record-low 0.5 percent in 2009 and started a program of gilt purchases that's grown to 375 billion pounds ($572 billion).
In his last month as governor, King maintained a push to expand stimulus further, though he was defeated by a majority of the nine-member MPC. He also called for more to be done to deal with banks that have grown too big to fail.
"It's been a game of two halves for King," said Jens Larsen, chief European economist at RBC Capital Markets in London, who worked at the BOE from 1998 to 2010. "The early response to the crisis was tentative, but its attitude changed and now it's become much more aggressive."
Policy Success
King has helped to mold the bank since he first moved to Threadneedle Street. He spearheaded a shift to place the academic and policy demands of a credible inflation-targeting regime at the center, and his success there paved the way for the government to award it powers to oversee the financial system.
A year after King joined the BOE, Britain faced a crisis in the pound that cumulated in its expulsion from the Exchange Rate Mechanism -- the precursor to the euro -- even as the country was still smarting from the after-effects of surges in inflation that at one point exceeded 26 percent.
King saw that for inflation targeting to work, he'd have to bolster the economics department. He drove the introduction of the quarterly Inflation Report and the publication of the MPC voting record to help communicate the outlook for policy.
"He bought an intellectual rigor to the way monetary policy and inflation targeting was carried out," said Peter Westaway, an economist at Vanguard Asset Management in London who worked at the central bank from 1996 to 2009. "When I started at the BOE it was regarded as a second-class citizen and not where the important thinking was done, and now the pendulum has swung the other way."
Regrets
King has said one of his regrets was not shouting loudly enough before the crisis about the risks building in the financial system. He said the BOE was hamstrung as it lacked powers to act.
Speaking this week, he said this gap is now closed after the government disbanded the old regulator and gave the BOE sweeping authority over bank oversight and financial stability.
"The real lesson from this is that you can publish as many Financial Stability Reports as you want, no one will take any notice unless you have the ability to do something about it," he told lawmakers.
The breadth of the powers raised criticism that King's replacement would have to be no less than a "superman." Carney, 48, said last month he recognized the "tremendous responsibilities" he will bear.
"The bank's responsibility and powers have grown and that tells you something about the respect with which it is held," said Richard Barwell, an economist at Royal Bank of Scotland Group Plc in London, who worked at the BOE from 2001 to 2010. "It's a premier-league central bank."
Before it's here, it's on the Bloomberg Terminal.
LEARN MORE