Fat-Shaming Prof Gets to Keep His NYU Job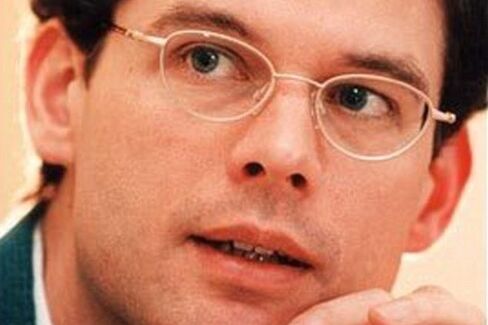 A visiting professor at New York University's Stern School of Business who ignited a firestorm of criticism with a fat-shaming tweet did not violate New York University rules governing research, the school said.
Geoffrey Miller, an evolutionary psychologist on leave from the University of New Mexico, sparked a Twitter revolt on June 2 with his tweet suggesting that "obese PhD applicants" were unsuitable for doctoral programs. The backlash was immediate. Jay Rosen, an NYU journalism professor, called the tweet "astonishing," and a new blog devoted to the "fatlicious in academia" was started. Miller subsequently deleted and apologized for the tweet, calling it "idiotic, impulsive, and badly judged." NYU initially called the tweet "regrettable" and said it considered the matter closed.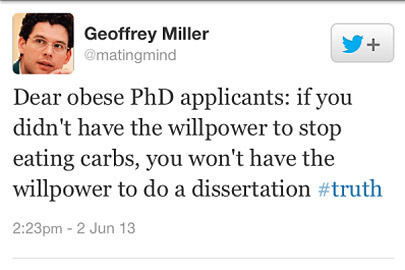 But the school opened an investigation after learning of a statement on the UNM web site that said Miller initially claimed the tweet was "part of a research project." NYU said Miller never submitted a research proposal to the school's Institutional Review Board (IRB). Miller, the school said, contended that approval was not required because it did not involve research on human subjects.
NYU spokesman Philip Lentz said in an e-mail that the review board met last week and agreed with Miller, finding that his "tweets were not research with human subjects as defined by the federal government" and that Miller "did not need IRB review for his work."
Miller, who did not immediately respond to a request for comment, will remain at Stern until Aug. 31, when his appointment ends, Lentz said.
Join the discussion on the Bloomberg Businessweek Business School Forum, visit us on Facebook, and follow @BWbschools on Twitter.
Before it's here, it's on the Bloomberg Terminal.
LEARN MORE