Europe Has Failed to Make a Drone of Its Own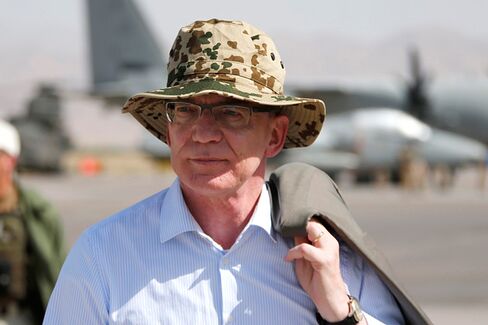 Europe has a drone gap. As the use of unmanned aerial vehicles for combat and surveillance has soared, European governments are buying or borrowing them from the U.S. or Israel after efforts to develop home-grown drones have faltered.
Germany's defense minister, Thomas de Maizière, faces pressure to resign after pulling the plug last month on a spy-drone project, known as Euro Hawk, on which the government had spent €500 million ($655 million). French troops fighting Islamic insurgents in Mali have relied on support from American Predator drones operating out of a base that the U.S. set up there this year. French Defense Minister Jean-Yves Le Drian said this month that he wants to buy 12 Reaper surveillance drones, made by California's General Atomics, at an estimated cost of €670 million. If the U.S. Congress doesn't approve the sale, Le Drian says he'll buy from Israel instead. Germany also has expressed interest in buying Reaper drones from the U.S.
"European companies missed the boat," says Huw Williams, an analyst in Britain with IHS Jane's Defence. "Israel and the U.S. really are running the show."
European aerospace companies' failure to enter this fast-growing market stands in sharp contrast to their success at developing fighter jets and other high-tech aircraft. Frustrated company executives blame the situation on government inaction and budget-cutting. Tom Enders, chief executive of the European Aerospace & Defence Company, says that EADS spent more than €100 million of its own money on drones, in the absence of government support. A drone project spearheaded by France's Dassault and Britain's BAE Systems also stumbled for lack of government financing.
Maxime Larivé, an international studies instructor at the University of Miami who has studied European drone policy, says that competing national interests have hobbled efforts to develop a pan-European program. "Paris and London are very powerful and sensitive with their own military companies, and there's always a strong incentive in each capital to defend their own projects." Programs run by individual European countries have fared no better. Germany's planned spy drone, a modified version of the Global Hawk developed by Northrop Grumman of the U.S., was cancelled because it lacks an anti-collision system, spurring fears that it would not pass muster with aviation authorities.
Support for pan-European cooperation seems to be building. EADS, Dassault, and Italy's Finmeccanica on June 16 announced a partnership to develop a medium-altitude, long-endurance drone. But that effort wouldn't bear fruit before 2020, Larivé says.
Europe's best hope, says analyst Williams, is to leapfrog ahead to a new generation of drone technology. As for the current generation of drones, he says, the U.S. and Israel have achieved "market saturation. European air forces have taken up their systems, and they are meeting the needs of the military."
Before it's here, it's on the Bloomberg Terminal.
LEARN MORE