Abe Recovery Pits Graduate Jobs Against Senior Savings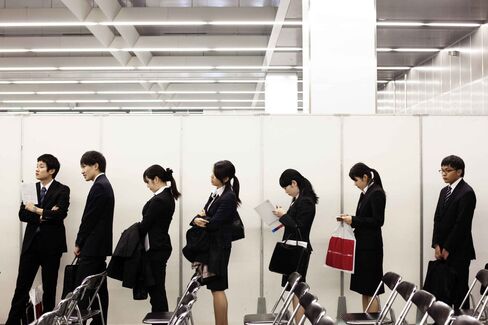 June 26 (Bloomberg) -- In the heart of Tokyo on a March afternoon, Akitsugu Yamamoto, clean-cut and clad in a dark business suit, is looking for a job at an employment agency whose name translates as New Grad Hello Work.
In a couple of days, Yamamoto, 27, will be leaving Waseda University, one of Japan's top educational institutions, with a graduate degree in public management -- and no job offers, Bloomberg Markets will report in its August issue.
He's spent the past 2 1/2 years looking for work. He even stayed in school an extra year, hoping something would turn up. He filled out about 100 job applications. He dressed up for 40 or so interviews. Nothing came his way -- not then and not now as he leaves New Grad Hello Work.
"It's really grim," Yamamoto says.
Yamamoto has known little but bleakness during Japan's so-called lost decades, which began when a real estate and stock price bubble popped in the early 1990s and the Bank of Japan lifted short-term interest rates to 6 percent. For two decades, Japan's economy stagnated even as interest rates fell virtually to zero.
It was already in bad shape when Yamamoto was growing up. Then came the beginning of the global financial crisis in 2008, followed in 2011 by the earthquake and tsunami and the resulting Fukushima nuclear accident.
"I got hit by the tough years," he says.
'Three Arrows'
Prime Minister Shinzo Abe, who took office in December, is hitting back with a stimulus program unprecedented for Japan.
First, in January, he ordered up a 10.3 trillion yen ($106 billion) spending boost to spur growth and end deflation.
Then, in April, his new, handpicked Bank of Japan governor, Haruhiko Kuroda, pledged to double the amount of money circulating in the economy, aiming to raise annual inflation to 2 percent within two years, from minus 0.4 percent as of April 30.
On June 14, Abe's cabinet approved the third of what he calls his "three arrows." The prime minister says his revival plan will recoup 50 trillion yen in national income that was lost during two decades of economic malaise. He says the government will remove barriers to private enterprise, with legislation to be enacted as soon as autumn.
Abe has also vowed to deregulate the energy and health-care industries while doubling foreign investment in Japan to 35 trillion yen by 2020.
Rising Stocks
He says he will raise investment in the power industry to 30 trillion yen in 10 years and triple to 12 trillion yen the use of public-private partnerships to fund airports, waterworks, highways and other projects over the same period.
There are signs that Abenomics is working. During the first quarter of 2013, the economy expanded by 1 percent, or an annualized rate of 4.1 percent. Private consumption, which makes up 60 percent of gross domestic product, contributed 2.2 percentage points to the jump. The unemployment rate dipped to 4.1 percent in April from 4.5 percent a year earlier.
As of May 22, the Nikkei 225 Stock Average had climbed about 50 percent this year, three times the gain in the Standard & Poor's 500 Index. From then to June 25, the Nikkei declined by about 17 percent as investor exuberance settled.
Since mid-November, when it became clear Abe's Liberal Democratic Party would win the Dec. 16 election, the yen has weakened against the dollar.
Weakening Yen
It stood at 81.17 to the dollar on Nov. 15. By May 22, it was trading at 103.16 on expectations that the government's stimulus policies would pull the country out of deflation, pushing up stocks. The currency then strengthened a bit, hitting 97.18 on June 25, because Abe's growth strategy failed to sustain an advance in Japanese shares.
The yen's tumble overall has made exporters such as Toyota Motor Corp., the world's largest automaker by sales volume, and Sony Corp. more competitive and hiked their overseas earnings. For the fiscal year ended on March 31, Toyota's profits more than tripled from the previous year to 962 billion yen, and Sony returned to profitability for the first time in five years.
As the bold monetary and fiscal measures that make up Abenomics grab headlines, the prime minister confronts a troubling demographic landscape.
Japan, which has a population of 127 million, had a birthrate of 8.3 births per 1,000 people in 2011, one of the lowest in the world. The number of Japanese workers aged 15 to 64 contracted by 7 percent in the 10 years through May 1, according to a government report.
Aging Population
Their chances of finding jobs shrank as well. The jobless rate among workers aged 15 to 24 almost doubled over the past two decades -- to 8.1 percent as of April, the highest of any working-age group in Japan.
Japan's aging population has taken an ever-growing share of government spending. Overall social welfare benefits rose to 103 trillion yen in 2010 from 47 trillion yen in 1990, according to data compiled by the National Institute of Population and Social Security Research.
Abe's room for maneuver will narrow if those costs are not contained. According to a forecast the institute released in January of last year, 39 percent of the population will be 65 or over by 2050. The comparable figure for 2012 was 24 percent, a record high at the time.
The number of elderly Japanese who are dependent on those who are employed is markedly larger than in other big economies.
'Fewer Babies'
In 2011, according to the World Bank, for every 100 Japanese of working age (those from 15 to 64 years old), there were 37 who were 65 years of age or older, compared with 31 in Germany, 20 in the U.S. and 12 in China.
"The working population in Japan is decreasing as the nation is having fewer babies and the population is aging, which will be a crucial factor to weigh on the nation's growth," says Yoshimasa Maruyama, chief economist at trading company Itochu Corp. in Tokyo.
Abe has said he recognizes the economic consequences of the country's generational divide. Although he has not yet spelled out specific policies, elderly Japanese could be required to pay a greater share of their welfare costs.
"The big savers, mostly the aged population, must be able to give their money, with smaller tax burdens, to the younger generation, which is exactly what my government is now doing," Abe said in a Feb. 22 speech at the Center for Strategic and International Studies in Washington.
Welfare Costs
Seniors, who are sitting on about 60 percent of all Japanese savings, will have to shoulder a larger share of rising welfare costs, says Susumu Takahashi, chairman of the consulting firm Japan Research Institute. Takahashi is a member of the government's Council on Economic and Fiscal Policy, which brings together business leaders, academics and policy makers, including BOJ Governor Kuroda.
"We need to overhaul the nation's social security system," he says.
Japan's demographic composition makes Abe's task especially difficult.
"Intergenerational inequality in Japan is the most severe in the world," says Manabu Shimasawa, a senior researcher at the National Institute for Research Advancement in Tokyo.
He says Japan is maintaining a social security system designed for a time when the number of young people was rising. Meanwhile, with the economy dormant, the elderly have benefited from a shield against inflation: The cycle of falling consumer prices favored those living on a fixed income.
Elderly Savings
With the advent of Abenomics, Kiyoko Ono, 80, says she's concerned about her future. A widow, she lives with her daughter's family in Ehime prefecture 500 miles (800 kilometers) to the southwest of Tokyo.
Ono, who spent most of her life as a housewife, gets by on a modest monthly pension of about 60,000 yen, supplemented by her savings. She says she worries that her medical costs will rise or her welfare benefits will be cut.
"It's just as if the government is telling us to die," she says. "I wouldn't want to trouble my daughter for money, so I just have to save what I've got -- at least enough to pay for my funeral."
By the same token, Ono says she understands why her 46-year-old daughter, Hisayo, a part-time office worker, and other young people are concerned about how government policies will affect them when they are their parents' age.
"My daughter tells me she doesn't know whether she will be able to get a pension, saying my generation is lucky," Ono says.
Intergenerational Politics
Abe could use some luck of his own. He served an earlier -- and very brief -- term as prime minister for exactly one year from Sept. 26, 2006. How long he lasts this time around could be determined in part by how well he handles intergenerational politics at this crucial moment in Japanese history.
"I am back," Abe announced in his Washington speech. "And so shall Japan be."
Although his tone was exultant, the prime minister recognized that his work was just beginning.
After outlining what he called his "economic booster plan," he made a point of saying, "That is not the end of the story, though. An even graver task remains. That is to enhance Japan's productivity. It is to retool Japan's economic structure."
That's a tall order for a prime minister seeking to avoid alienating the people of Kiyoko Ono's generation, who make up about one out of every three voters, while creating jobs for those of Akitsugu Yamamoto's generation, who represent Japan's future.
To contact the reporter on this story: Keiko Ujikane in Tokyo at Sydney at kujikane@bloomberg.net
To contact the editor responsible for this story: Stryker McGuire in London at smcguire12@bloomberg.net