MBA Alumni Networks by the Numbers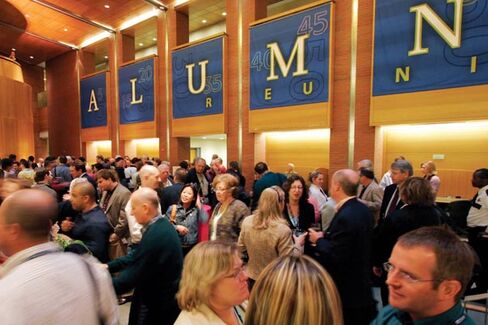 With the commencement ceremonies at Northwestern's Kellogg School of Management and Stanford Graduate School of Business wrapping up in the past week or so, it's official: The graduates of Bloomberg Businessweek's top 10 MBA programs are students no longer. They're alumni, and they're about to find out how useful, or not, their school's alumni networks will be as they pursue their careers.
So it seems only appropriate to point out that not all alumni networks are created equal. In terms of sheer size, geographic reach, industry, and company penetration—even school spirit—the differences are considerable even among an otherwise narrowly defined group such as the top 10, according to data supplied by schools and culled from LinkedIn profiles.
Let's start with size. No one in the top 10 even comes close to Harvard Business School, with 77,778 alumni, compared with 17,620 for Stanford, 15,605 for Duke's Fuqua School of Business, 13,693 for Cornell's Johnson Graduate School of Management, 11,554 for MIT's Sloan School of Management, and 10,358 for Virginia's Darden School of Business, according to data supplied by schools. For every Darden alum, Harvard has more than seven.
Harvard alumni—along with those from Chicago's Booth School of Business, Pennsylvania's Wharton School, Kellogg, and Darden—have settled far and wide, with each school boasting active alumni clubs in 40 or more countries. But not every school can make that claim: Duke and Cornell alumni clubs are in only 15 and 14 countries, respectively, and MIT Sloan's small alumni base has an presence in only four.
Among top 10 alumni with LinkedIn profiles, there's little to distinguish one from the next in terms of dominant industries. For all but two schools, an analysis by LinkedIn found, more alumni work in finance than any other industry. The two exceptions are Kellogg, where marketing is No. 1, and MIT, where operations, business development, and finance are in a dead heat for the top spot.
Where the top 10 do distinguish themselves is in dominant employers. At six of the 10, McKinsey is among the top three employers of alumni with LinkedIn profiles—a feat no other employer came even close to matching. Still, the schools that stick out the most are those with alumni roots deep in the tech industry. Stanford, Kellogg, Darden, Duke, Cornell, and MIT all fall into this category, with alumni occupying positions at such tech stalwarts as Google, Ciscso Systems, Microsoft, and IBM.
And what about that elusive school spirit? It's hard to say with any accuracy which alumni are most likely to help out someone from their alma mater, but a proxy that's often used to measure the depth of alumni feeling—and by extension, willingness to help—is the extent to which they contribute to annual fund-raising campaigns.
In the 2011-12 academic year, 42 percent of Darden's living alumni contributed, narrowly edging out Stanford (40 percent) but far ahead of Harvard (27 percent), Sloan (24 percent), and Duke (23 percent). Darden's median gift of $250 was less than Stanford's ($300) but matched Harvard's. On the low end, only 17 percent of Booth's alumni gave, and the median gift was $100. Wharton, Kellogg, and Cornell did not supply information on the percentage of alumni contribution or the median contribution.
Join the discussion on the Bloomberg Businessweek Business School Forum, visit us on Facebook, and follow @BWbschools on Twitter.
Before it's here, it's on the Bloomberg Terminal.
LEARN MORE