Jobless Claims in U.S. Climbed More Than Forecast Last Week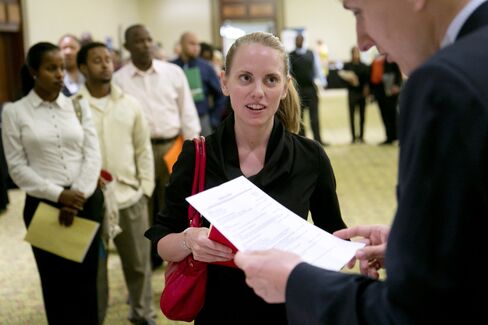 More Americans than forecast filed applications for unemployment benefits last week, showing progress on reducing joblessness remains uneven amid slower growth this quarter.
Jobless claims climbed by 18,000 to 354,000 in the week ended June 15 from a revised 336,000 the prior period, the Labor Department reported today in Washington. The median forecast of 46 economists surveyed by Bloomberg called for 340,000. No states were estimated and there was nothing unusual in the data, a Labor Department spokesman said as the figures were released.
Employers will need to limit firings before the world's largest economy can show bigger gains in payrolls. Federal Reserve officials announced yesterday that they would maintain the central bank's $85 billion in monthly asset purchases until the expansion shows further signs of strengthening.
"Firms have just been very cautious in their hiring and they remain so," said Stephen Stanley, chief economist at Pierpont Securities LLC in Stamford, Connecticut. Stanley projected a rise in claims to 346,000. Still, "by and large, the conditions in the labor market are pretty steady."
Stock-index futures held earlier losses after the report. The contract on the Standard & Poor's 500 Index maturing in September declined 0.9 percent to 1,609.6 at 8:45 a.m. in New York after the Fed said it may start paring stimulus measures later this year.
Survey Results
Economists' claims estimates in the Bloomberg survey ranged from 325,000 to 355,000. The prior week was initially reported at 334,000. Applications dropped to a five-year low of 327,000 in late April.
The four-week moving average, a less-volatile measure than the weekly figures, climbed to 348,250 last week from 345,750.
Jobless claims, which track weekly firings, typically fall before job growth, measured by the monthly non-farm payrolls report, can accelerate.
Employers in the U.S. added 175,000 jobs in May, more than the median forecast in a Bloomberg survey, and the jobless rate rose to 7.6 percent from 7.5 percent as the number of people entering the workforce swamped the number of jobs available.
The number of people continuing to receive jobless benefits decreased by 40,000 to 2.95 million in the week ended June 8. The continuing claims figure doesn't include the number of Americans receiving extended benefits under federal programs.
Extended Benefits
The number of job seekers who have exhausted their traditional benefits and now are collecting emergency and extended aid fell by about 19,550 to 1.68 million in the week ended June 1.
The unemployment rate among people eligible for benefits held at 2.3 percent in the week ended June 8, today's report showed.
Forty-five states and territories reported an increase in claims, while eight reported a decrease. These data are reported with a one-week lag.
A recovering housing market may help limit firings as it prompts companies such as Mooresville, North Carolina-based Lowe's Cos. to expand. The second-largest home-improvement retailer announced earlier this week it will purchase at least 60 Orchard Supply Hardware stores in California as the outlook for residential real estate improves.
Housing Rebound
Permits for new single-family homes rose in May to a 622,000 pace, the fastest since May 2008, Commerce Department figures show. A measure of builder confidence climbed in June to its highest level since March 2006, according to a National Association of Home Builders/Wells Fargo index.
Housing is one aspect of the economy that's contributing to a more upbeat forecast from the Fed. Policy makers said yesterday that they see the "downside risks to the outlook for the economy and the labor market as having diminished since the fall," indicating they are prepared to trim the Fed's monthly bond-buying sometime this year.
"If the incoming data are broadly consistent with this forecast, the committee currently anticipates that it would be appropriate to moderate the pace of purchases later this year," Federal Reserve Chairman Ben S. Bernanke said yesterday in a press conference at the conclusion of the two-day meeting of the Federal Open Market Committee.
The FOMC officials said for now they would maintain the $85 billion pace of monthly asset purchases and repeated that they're prepared to increase or reduce the pace of purchases depending on the outlook for the job market and inflation.
Before it's here, it's on the Bloomberg Terminal.
LEARN MORE