At NYU Stern, Fashionistas Can Get an MBA, Too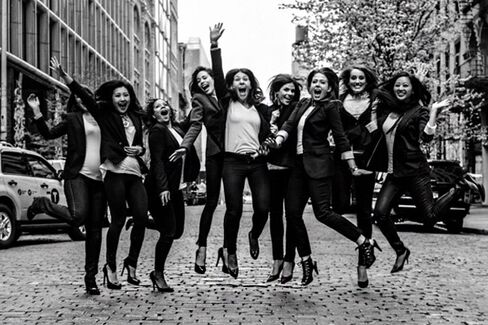 Fashion may be an unconventional career choice for MBAs, but NYU's Stern School of Business has a novel program for the sartorially inclined. Stern MBAs can apply to participate in the Stern Consulting Corps' partnership with the Council of Fashion Designers of America, which pairs students with fashion designers for 10 weeks to provide advice on a variety of subjects, including business plans, e-commerce strategies, and cash flow projections.
The program, which just completed its fourth semester, matches Stern MBAs with designers—either a participant in CFDA's Fashion Incubator or a more established CFDA member—and assigns each team an industry leader to provide guidance and feedback. This spring, the program matched 10 MBAs—all women—with New York City designers. "By partnering with Stern MBA students, these designers receive the support and guidance they need to take their businesses to the next level," says Jamie Rose Tobias, director of Stern's Office of Student Engagement.
Katey Hassan, who worked with designers Melissa Joy Manning and Jonathan Simkhai this spring, says the program was a major reason for deciding to attend Stern. "It's a really incredible program for someone who wants to transition to working in fashion, or even consulting," Hassan says. "To have the opportunity to work with real businesses on real problems and know the designers would implement some of the solutions was really empowering."
Gustavo Tatsch, who came to Stern from Argentina and graduated in May, participated in the program three times: twice as a student consultant to the designers and once as a student adviser during his final semester. "I worked with designers from the U.S. and gained an understanding of their challenges and work methods." he says. "I was exposed to well-known professionals who acted as advisers to the program. And I was building my résumé in the U.S." Tatsch recently accepted a full-time position at a leading luxury group.
CFDA's executive director, Lisa Smilor, was responsible for launching the partnership with Stern and says the program's success has prompted the CFDA to seek partnerships with other MBA programs. "The benefit for our designers really comes from the information they are able to get from the Stern students," Smilor says. "These students have the skills, the time, and the resources to be able to provide something tangible that the designers and entrepreneurs can act on."
Tatsch, for example, worked as a student consultant with two menswear designers who asked him and a colleague to explore a major growth strategy, including an e-commerce expansion, the launch of a second clothing line, and the opening of two retail stores in New York City. The students concluded that the designers didn't have the cash flow to support such ambitious growth and helped them narrow the scope.
CFDA and Harvard Business School now work together to place MBA students in summer internships with such members as Kate Spade and Carolina Herrera, and the organization will partner with Columbia Business School beginning this fall.
Join the discussion on the Bloomberg Businessweek Business School Forum, visit us on Facebook, and follow @BWbschools on Twitter.
Before it's here, it's on the Bloomberg Terminal.
LEARN MORE