Astros Sign Right-Hander Appel, Top Pick in Draft, ESPN Says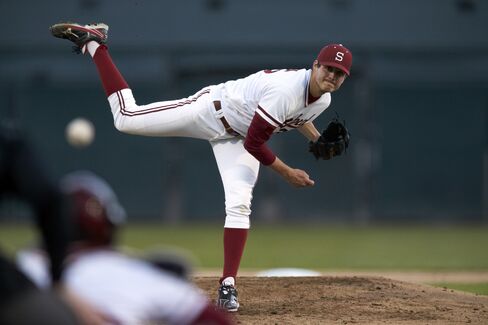 The Houston Astros signed right-handed pitcher Mark Appel, the top pick in the Major League Baseball draft this month, ESPN reported.
Appel, 21, was 10-4 with a 2.12 earned-run average in his senior season at Stanford University. He recorded four complete games and had 130 strikeouts in 106 1/3 innings.
The ESPN report didn't mention financial details of the agreement. Astros spokesman Gene Dias didn't immediately respond to an e-mail seeking comment.
The Astros (27-45) joined the American League this season after 51 years in the National League. They have the fewest wins in the AL after recording baseball's worst record in each of the past two seasons.
Appel was drafted last year by the Pittsburgh Pirates with the No. 8 selection, turning down a $3.8 million offer to return to Stanford instead, according to ESPN.
Before it's here, it's on the Bloomberg Terminal.
LEARN MORE