Angelina Jolie's Stunt Double Files First Phone Hacking Suit In U.S. Against News Corp.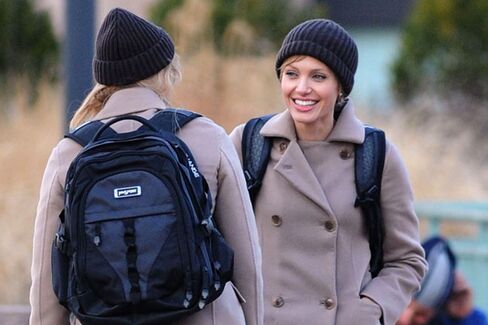 In the end, it took a former gladiator-turned-stunt woman to catapult News Corp.'s U.K. Phone hacking scandal across the Atlantic and into U.S. courts.
On June 13, Eunice Huthart, a former champion of the TV competition series Gladiators and an erstwhile stunt double for Angelina Jolie, filed a civil suit in California seeking unspecified damages from News Corp. The suit alleges that on several occasions, while Huthart was living in the U.S. in 2004 and 2005, operatives at Rupert Murdoch's papers in London illegally hacked into her voice-mail. To date, this is the first phone-hacking case to be filed against News Corp in the United States.
According to the 40-page complaint, the alleged violations took place while Huthart was living in Los Angeles and sharing an apartment in Brentwood with Jolie, her co-worker and friend. At the time, Huthart and Jolie were working together on the movie Mr. & Mrs. Smith (which, coincidentally, was distributed by News Corp.'s 2oth Century Fox).
A spokesperson for News Corp. declined to comment.
Huthart, according to the complaint, believes that Murdoch's London papers were hacking into her voice-mail in order to get information about Jolie. Huthart alleges that, along the way, the eavesdroppers deleted a number of her personal voice-mails. As a result, she allegedly missed messages and thereby failed to return phone calls from her teenage daughter, who was reaching out to her from Liverpool, England, to tell her mom about being bullied in school.
"During the same period, Plaintiff's husband criticized her for not responding to his calls and the voice messages he left on her cellular telephone system," reads the complaint. "He became very insecure as a result of her not getting back to him after he left voice messages. Their relationship suffered. Plaintiff's husband suspected she was having an affair."
Huthart alleges that Murdoch's papers also hacked into her messages in order to surrepticiously gather information about Jolie's budding relationship with Brad Pitt. According to the complaint, based on the alleged surveillance of this private information, Murdoch's London tabloid the Sun was able to report an "exclusive," revealing, among other things, that Pitt and Jolie had checked into a hotel while posing as a married couple.
"Defendants published information, including articles in The Sun and News Of The World, using sensitive, private and confidential information intended solely for Plaintiff," reads the complaint. "As a result of Defendants' actions, Plaintiff was unable to make intimate decisions or conduct personal activities relating to both her family and career without observation, intrusion, or interference."
In fall 2011, News Corp. launched a "compensation scheme," a voluntary program in London designed to reach settlements with phone-hacking victims and to avoid additional litigation. As of February 2013, News Corp. had resolved roughly 700 claims from phone hacking victims and handed out roughly $25 million in settlements.
Why is Huthart filing suit in the U.S., rather than participating in the compensation scheme in London? According to the complaint, the plaintiff chose the venue of the U.S. District Court for the Central District of California "because the claims arose in this district."
Huthart, a citizen of the U.K., is being represented by Norman Siegel, former director of the New York Civil Liberties Union. In the spring of 2012, it was reported that Siegel was teaming up with Mark Lewis—an attorney who represents many of the phone-hacking victims in the U.K.—to pursue phone-hacking cases in the U.S.
It's possible that Huthart's claim might not be the last here.
Reached on Wednesday, Siegel says that he and Lewis have received a number of phone calls from individuals claiming they were hacked while in the U.S. In each situation, Siegel says he and Lewis have looked into the allegations to decide whether or not there is enough evidence to merit moving forward with a suit. "I made a judgment that we had enough evidence with regard to Eunice to file here," says Siegel. "I'm continuing to do the research for the others."
Before it's here, it's on the Bloomberg Terminal.
LEARN MORE