RBA Saw Potential for Lower Aussie as Rate-Cut Scope Remains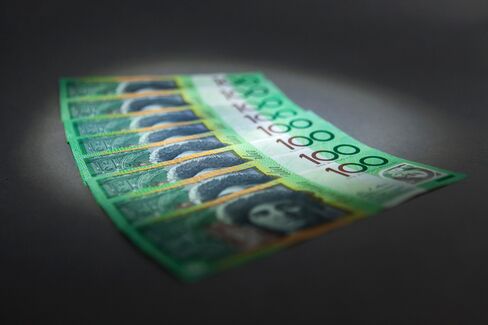 Australia's central bank said the local dollar may fall further as export prices ease and repeated it has room to cut interest rates again, according to minutes of its June 4 meeting at which it held the cash rate steady.
"It was possible that the exchange rate would depreciate further over time as the terms of trade declined, which would help to foster a rebalancing of growth in the economy," the Reserve Bank of Australia said in minutes of the meeting released in Sydney today. "The board also judged that the inflation outlook as currently assessed might provide some scope for further easing, should that be required to support demand."
Governor Glenn Stevens and his board lowered borrowing costs by 2 percentage points over the past 20 months to 2.75 percent, joining global counterparts in embracing record-low rates to help combat currency strength. He is aiming to rebalance growth as mining regions in the north and west thrive and manufacturers in the south and east struggle.
"We are left with no doubt that the RBA remains on an easing bias, but today's minutes provide no new guidance on whether or not the RBA will pull the trigger," said Alvin Pontoh, a Singapore-based Asia-Pacific strategist at TD Securities. "There is little here to dissuade us from expecting the RBA to stand pat again next month."
The Australian dollar fell to 95.03 U.S. cents at 12:28 p.m. in Sydney, from 95.43 cents before the statement. Since the RBA's May cut, the Aussie has fallen about 7 percent, also helped by speculation on a change in U.S. policy.
High Aussie
"Interest rates had declined further as a result of the board's decision at the May meeting," the RBA said, referring to its unexpected decision to cut the cash rate in that month. "The exchange rate had also depreciated noticeably, though it remained at a high level considering the decline in export prices that had taken place over the past year and a half."
While the nation's terms of trade, a ratio of export prices to import prices, peaked in 2011, Australian industry has been squeezed by a currency that held above $1 from mid-June last year to May 10, the longest stretch above parity with the U.S. dollar since the Aussie was freely floated in 1983.
The Federal Open Market Committee starts its two-day policy meeting today, a month after Fed Chairman Ben S. Bernanke said that stimulus efforts, which have included the asset buying program known as quantitative easing, could be scaled back should the U.S. employment outlook show "sustainable improvement."
Equities Slump
About $2.7 trillion has been erased from the value of global equities since Bernanke indicated May 22 that the stimulus aimed at bolstering the world's largest economy could be wound back.
"An important contributor to the recent depreciation of the Australian dollar had been the U.S. dollar's appreciation," the RBA said. "Members noted, however, that the Australian dollar had depreciated against most currencies, reflecting further declines in commodity prices and market concerns about the outlook for China, as well as the reduction in the cash rate."
Treasurer Wayne Swan said in the budget released last month that the government's books wouldn't be balanced until 2016. Treasury projected unemployment would rise to 5.75 percent by June 2014 as the economy undergoes a "substantial transition" from resource investment to growth led by industries like housing construction. While the RBA repeated that resource investment was near its peak and would remain high for the next year or so, members noted there was "considerable uncertainty" beyond that.
Subdued Conditions
"In particular, changes in production and exports of energy commodities in other countries were making it more difficult to assess the potential for new projects in the gas sector," the central bank said in the minutes. "Overall, conditions in the business sector remained somewhat subdued."
In recent weeks, mining support companies Boart Longyear Ltd., Transfield Services Ltd. and UGL Ltd. said the deferral of major projects by large miners in response to falling commodity prices will weaken earnings and spark job cuts. The Bureau of Resources and Energy Economics projected in a May 22 report that investment has peaked after A$150 billion ($143 billion) of mines were delayed or scrapped in the past year. Ford Motor Co. also announced on May 23 it would end production in the country after nine decades, with the loss of 1,200 jobs.
Cuts Working
Traders are pricing in a 36 percent chance the RBA will lower borrowing costs by a quarter percentage point to a fresh record 2.5 percent next month, according to interest-rate swaps data compiled by Bloomberg.
There are indications that the central bank's rate reductions are beginning to impact households. Australian home-loan approvals have risen in the four months reported this year, and retail sales in all except March, according to government data. Consumer confidence jumped 4.7 percent this month as lower rates make finance cheaper and unemployment dropped to 5.5 percent in May.
"The bank's liaison contacts were generally becoming more positive about the outlook for dwelling investment," the RBA said. "Auction clearance rates were well above average in Sydney and had picked up to be a bit above average in Melbourne."
The RBA's next scheduled meeting is on July 2.
Before it's here, it's on the Bloomberg Terminal.
LEARN MORE