China May Home Prices Rise as Major Cities Post Record Gains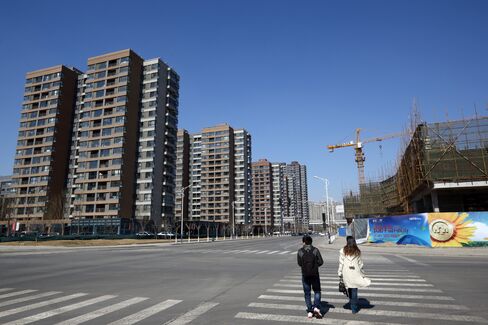 China's new home prices rose in almost all cities in May, led by major centers, as the government's latest property measures failed to deter buyers.
Prices climbed from a year earlier in 69 of the 70 cities tracked by the government, the most since August 2011, the National Bureau of Statistics said in a statement today. The southern business city of Guangzhou posted the biggest gain with prices rising 15 percent from a year earlier. Beijing prices climbed 12 percent, while they advanced 10 percent in Shanghai. All three cities had their biggest increase since the government changed its methodology for the data in January 2011.
The government in March stepped up a three-year campaign to cool home prices, with Beijing issuing the toughest measures among 35 provincial cities. The country will widen property tax trials, which have only been imposed in Shanghai and Chongqing, the State Council said in a statement posted on the central government's website on May 24.
"The government didn't actually crack down on the property market, as we see the local governments are reluctant to enforce the policies," Zhang Zhiwei, Hong Kong-based chief China economist at Nomura Holdings Inc., said in a phone interview today. "The government is in a dilemma right now. It's difficult for China to tighten the property market, while it also needs to bolster the economy, which has a strong reliance on property."
Slowing Growth
China's economy grew 7.7 percent in the first quarter, less than the 8 percent median forecast in a survey of 41 economists.
The only decline in new home prices last month was in the eastern city of Wenzhou, where they fell 3.6 percent from a year earlier, according to the data.
The Shanghai Stock Exchange Property Index, which tracks 24 developers, was little changed as of 10:23 a.m., while the benchmark Shanghai Composite Index lost 0.3 percent.
Existing home prices rose 13 percent in Beijing last month from a year ago and increased 9.2 percent in Shanghai, according to the data. They climbed 9.9 percent in Guangzhou and 8.3 percent in Shenzhen.
Private data also have shown prices continuing to rise. Home prices jumped 6.9 percent from a year earlier last month, the biggest gain since an eight-month series of declines ended in December, according to SouFun Holdings Ltd., the nation's biggest real estate website owner.
Property 'Bubble'
Home prices in China had the biggest quarterly gain among 55 countries globally, rising 11 percent in the first three months of the year, broker Knight Frank LLP said in an e-mailed report yesterday.
China's property market faces the risk of a "bubble," and it isn't "light," Wang Shi, chairman of China Vanke Co., the nation's biggest developer, said at a conference in Shanghai on June 6.
The value of home sales rose 1.7 percent in May from the previous month to 503 billion yuan ($82 billion), the statistics bureau reported on June 9.
Developers are not short of cash because the country's monetary policy in the first quarter was "too relaxed," according to Nomura's Zhang. With "excessive liquidity," it's very difficult for home prices to slow, he said.
Before it's here, it's on the Bloomberg Terminal.
LEARN MORE