Netflix Bets Big on Streaming Kids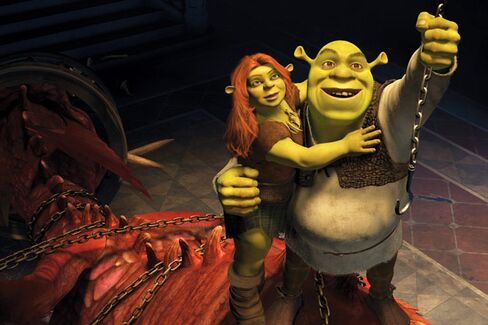 Six months before its first DreamWorks Animation show debuts, Netflix is doubling down on the studio with a deal the company describes as its largest to date for original content. Netflix is paying for 300 hours of new television programs to be based on DreamWorks characters from films such as Shrek, Kung Fu Panda, and Madagascar. The financial terms weren't disclosed.
The first of the new shows will première next year in all 40 countries where Netflix operates. The new deal will also give Netflix exclusive rights to show three DreamWorks Animation feature films in the U.S. and Latin America: The Croods, Turbo, and Mr. Peabody and Sherman. In February, the companies announced a new series to be released in December, Turbo: F.A.S.T. (Fast Action Stunt Team) that will be based on the DreamWorks movie Turbo, scheduled to reach movie theaters on July 17.
DreamWorks's extensive catalog of children's characters—from Hiccup, the dragon whisperer of How to Train Your Dragon, to Shrek and Po, the Dragon Warrior—gives Netflix a deeper platform to extend its appeal to parents, lured by commercial-free TV for a $7.99 monthly streaming charge. And unlike the original shows financed by Netflix, with the exception of Arrested Development, these animated characters come with a box-office track record and existing affinity for millions of viewers. The company also has produced House of Cards, a political thriller starring Kevin Spacey; Hemlock Grove, a horror thriller; Lilyhammer, about a gangster in Norway; and Derek, a comedy-drama written and directed by Ricky Gervais, which will debut in September.
The goal for Netflix is to lock up as much exclusive content as possible ahead of rival Amazon.com, and the two companies have been duking it out in streaming deals for the last three years. Viacom signed an agreement earlier this month to give Amazon Prime members access to 4,000 TV episodes in a multiyear deal worth $200 million, according to Bloomberg Industries. Netflix let its own Viacom streaming deal expire in May, but the company had already notched exclusive agreements last year with Disney for children's shows as well as a separate first-run distribution deal for films. The film deal, which runs from 2016 to 2019, is worth about $300 million a year alone.
Before it's here, it's on the Bloomberg Terminal.
LEARN MORE