Can a New Banker Clean Up the Vatican's Money Mess?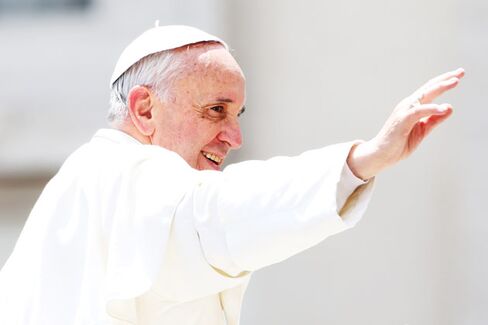 Less than three months after his inauguration, Pope Francis has taken aim at one of the Holy See's messiest problems: the Vatican Bank.
On June 15, the pope named a trusted Vatican manager, Monsignor Battista Mario Salvatore Ricca, as interim prelate of the bank, which has been tarred by allegations of money laundering and other violations of international banking standards. The situation got so bad in January that regulators briefly barred the Vatican from accepting credit and debit cards and dispensing cash from ATMs in its museums.
The appointment of Ricca, whose current responsibilities include managing Vatican properties, is the latest signal that the new pope wants the mess at the bank cleaned up quickly. Last month, the Vatican announced it had stepped up efforts to improve transparency and prevent money laundering. The bank, known officially as the Institute for the Works of Religion, also agreed to start sharing financial-transaction information with U.S. banking regulators and has said it will start publishing its financial accounts for the first time.
The bank's new president, Ernst von Freyberg, told Bloomberg News last week that he planned to transform the 70-year-old institution into one of the world's most vigilant financial firms. Von Freyberg, a German lawyer, was named to the post in February by Francis's predecessor, Pope Benedict XVI:
"We will have by the end of the year probably a better understanding than most financial institutions about whether any client would be suspicious," Ernst von Freyberg, president and executive member of the bank's oversight council, said in a June 11 interview at his Vatican City office, which features a painting of Jesus with the cross and a photo of Pope Francis. "Reputation is the key issue."
The bank has been under a cloud since 2010, when some of its former executives were placed under investigation by Italian prosecutors for allegedly omitting data in wire transfers from an account that was suspected of involvement in money laundering. Last July, the Council of Europe's monitoring body for money laundering said the bank was making progress in complying with international standards of transparency but still needed to improve supervision of transactions.
Before it's here, it's on the Bloomberg Terminal.
LEARN MORE