Syria Censors, Lecherous Priests Thrive in Paris: Theater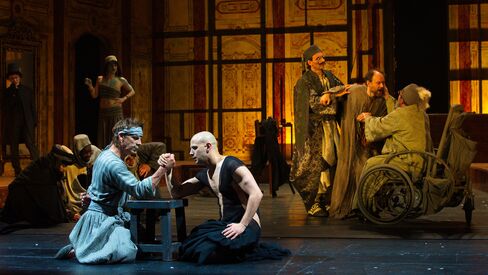 The civil war in Syria has produced an unexpected consequence: The Comedie-Francaise, France's most prestigious theater, has decided to stage the work of a Syrian author -- the first by an Arab in its 333-year history.
"Rituel pour une Metamorphose" (Ritual for a Metamorphosis) isn't a comment on the current situation. Its author, Saadallah Wannous, Syria's most prominent playwright, died in 1997.
Yet the play says something about the tensions between politics and religion in the modern Arab world and a society that still finds it difficult to treat women as equals. It also tackles another taboo, homosexuality.
No theater in Damascus, the scene of the 1994 play, dared touch it during the author's lifetime. Only in recent years has it been staged there.
To be on the safe side, Wannous shifted the action to the 19th century when Syria was a province of the Ottoman Empire.
The Mufti, the highest authority on Islamic law, is at loggerheads with Abdallah, the leader of the local notables. He has Abdallah arrested while he is making love to his concubine, Warda.
To put Abdallah in his debt, he offers to extract him from his embarrassing predicament by freeing Warda and secretly exchanging her for Moumina, Abdallah's wife.
Liberated Woman
Abdallah is delighted, yet Moumina accepts only on condition that her husband repudiates her: She wants to be a free woman and a concubine herself.
Almassa, as she now calls herself, is a tremendous hit with Damascus's female population -- so much so that the Mufti issues a number of fatwas to re-establish the old order: Women are forbidden to wear chic clothes and jewelry like Almassa; dance and music are banned; non-religious books must be burned.
Later, the Mufti revokes the fatwas because he himself has fallen under Almassa's spell. In the end, she is killed by her brother who is worried about the family's honor.
Then Abdallah has a Damascene moment and becomes an itinerant preacher.
It would be pointless to pretend that "Ritual for a Metamorphosis" is a neglected masterpiece. Moumina-Almassa is no Nora, the heroine of Ibsen's "A Doll's House" who leaves her feckless husband.
Cartoon Cutouts
Wannous's characters are cartoonish, like in a Brechtian parable play.
Yet the work provides a valuable glimpse into what could and could not be said in the Syria of the Assad clan. Dictatorships are an excellent training ground in the art of reading between the lines.
The religious authorities, we learn, could be openly ridiculed under the Baathist regime. On the other hand, the secular Ottoman governor had to be handled with kid gloves.
Sulayman Al-Bassam, the Kuwaiti director, seems to be in two minds about the play.
The first half is presented as an Oriental fairy tale with an atmospheric set (Sam Collins) and colorful costumes (Virginie Gervaise). The abstract no-man's-land in the second half suggests that the play's message isn't limited to the Middle East.
Thierry Hancisse is a suitably oily Mufti. Denis Podalydes portrays Abdallah's transformation from epicurean womanizer to religious fanatic with almost frightening intensity.
The weak link in the cast is Julie Sicard's pale Moumina-Almassa: As a Syrian Lulu, who turns Damascus upside down, she is simply not believable.
Rating: ***.
"Rituel pour une Metamorphose" is in repertory through July 11. Information: http://www.comedie-francaise.fr.
(Jorg von Uthmann is a critic for Muse, the arts and leisure section of Bloomberg News. The opinions expressed are his own.)
Muse highlights include Scott Reyburn on the art market, Warwick Thompson on London theater, Elin McCoy on wine and Jorg von Uthmann on Paris culture.
What the Stars Mean:
*****       Fantastic
****        Excellent
***         Good
**          So-so
*           Poor
(No stars)  Avoid