Happy Birthday to Shhhh! Alternatives to That Song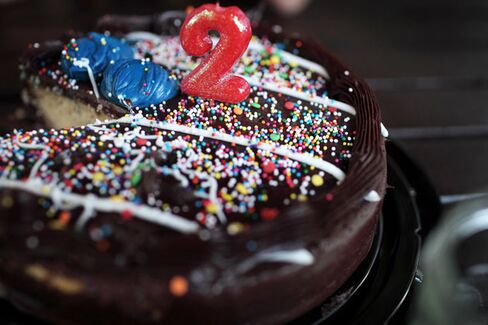 If today is your birthday, please try to avoid public places where anyone might put you in legal jeopardy with an unfortunate chorus of a certain very familiar tune. As a lawsuit filed this week reminds us, the standard celebratory song used by Americans on such occasions is somehow held under copyright.
Think about it: "Happy Birthday to You" is one of those universally known ditties that somehow never manages to be heard in movies or TV shows, even when the plot involves a birthday. Why? Entertainment companies have long bowed to the litigious might of Warner Music Group, whose publishing unit claims to own rights to the song and seeks payment for any use. Those payments led to a lawsuit in which a New York-based filmmaker seeks to move the famed birthday song into the public domain, allowing its future use free of charge.
Fear of being sued for "Happy Birthday to You" has been, at least in part, one of the reasons chain restaurants in the U.S. have often resorted to ingenuity and creativity when diners mark annual milestones with a meal. As public spaces, the eateries would in theory be vulnerable to legal action by Warner if they used the copyrighted tune. Here's a look at what you might hear in lieu of the familiar song should your celebrations carry you to one of the nation's casual-dining establishments.
Here's one variation chosen by Brinker International's Chili's chain:
http://www.youtube.com/embed/2fPFkeg7DVQ
At Chili's we say it's fun and true
'specially when we sing for you
Good news is we sing for free
Bad news is we sing off key
Sound off
Happy
Sound off
Birthday
Happy Birthday to you
Chuck E. Cheese's:
http://www.youtube.com/embed/kbt7cTJaNKs
And Applebee's:
http://www.youtube.com/embed/HGM4CAygnnQ
T.G.I. Friday's employees truly get into it. (Note the lead singer's awesome flair):
http://www.youtube.com/embed/TjrQ1U9njLs
Red Robin scared a little girl:
http://www.youtube.com/embed/EvdA38HQm4g
And Azteca Mexican Restaurants veers real close to the traditional version:
http://www.youtube.com/embed/NaR2Kv9ycCg
Before it's here, it's on the Bloomberg Terminal.
LEARN MORE