Jeb Bush's Latin 'Lover:' R-Rated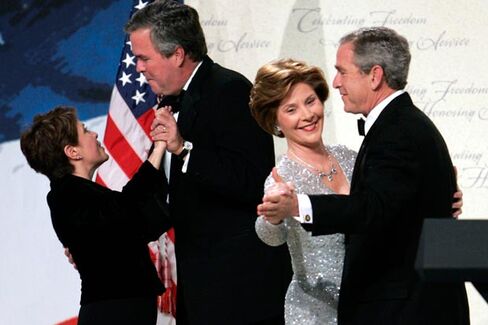 Former Florida Gov. Jeb Bush waxes eloquently about all manner of public affairs: Education reform, immigration policy, governmental responsibility, personal responsibility…
And his own fiery affair with his wife, Columba.
Bush, 60, delved into romance this morning at the Bipartisan Policy Center in Washington with an ear-catching juxtaposition of immigration reform and laying down with his wife, a native of Mexico.
"When I get to spend the night with my lover, it's my wife who was born outside the United States," Bush said. Quickly noting the presence of TV cameras, he added: "By the way, did I mention that my lover is my wife?"
This was his way of getting at how his own family demonstrates the immigrant heritage of the U.S. He went on to mention granddaughter Georgia, her mother Canadian of Iraqi descent, and implied she might one day be the nation's 52nd president (his father and brother were Numbers 41 and 43) — her nickname, "52."
Bush's colorful language to describe his marriage goes back a ways.
Consider this from a 1986 profile in The Miami Herald. Bush, then a 33-year-old Miami-Dade County Republican Party chairman and eight years away from his first run for office (his first, failed bid for governor in 1994) spoke of when he and Columba first met. They met in Mexico. They were young.
"I don't know, maybe it was just raw animal magnetism," he said then. "I just fell in love with her. It's just one of those indescribable things. It's only happened to me once so far. I don't know how to describe it. I can tell you the symptoms. Not being able to sleep. Not having an appetite. She was the first girl I ever felt that way about."
Columba Bush has here own penchant for the personal: This from a 2003 story in The Washington Post:
"During the 1994 campaign, a reporter asked Columba Bush the name of the Spanish language book she was reading. 'It is called 'Secrets About Men That Every Woman Should Know," she replied. 'We've been together 20 years and you stay that way by keeping the romance going."'