H&M Has Been Slower Than Its Fast-Fashion Rival in Escaping Europe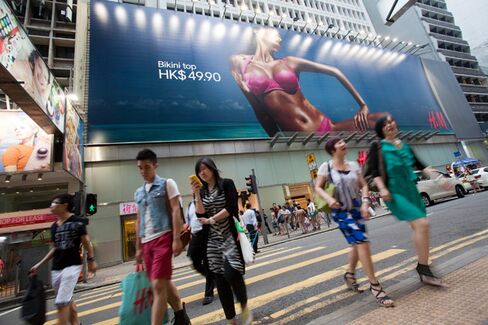 For Hennes & Mauritz, better known as H&M, expansion can't come quickly enough. The Swedish giant already has about 2,800 stores, but many of them cater to the shaken shoppers of Western Europe. With four out of five revenue dollars coming from its home continent, the world's No. 2 apparel company continues to fall behind Inditex, owner of Zara stores. There was more bad news yesterday, as H&M posted static same-store sales for May. Even in Germany, the economic engine of the European Union and a country that accounts for 21 percent of H&M revenue, sales have been crummy.
Analysts aren't optimistic about a fast turnaround anytime soon. "We find this a bit harsh," Barclays analysts wrote in a recent negative report, "but we think it is unlikely to change in the near term." A report from Goldman Sachs agreed that the Swedish company's discount-apparel competitors and ongoing shift to online shopping will weigh on H&M profits for at least the next three years.
Inditex is struggling, too—just not nearly as much as its smaller rival. The Spanish company's same-store sales from May 1 through June 7 rose by 8 percent, according to data released yesterday. The Spanish company only gets about two-thirds of its revenue from Europe these days, thanks to an aggressive expansion in Asia, including 400 stores in China. What's more, Inditex's vertical integration lets it respond to fashion trends much faster than H&M. That slick supply chain came in handy this spring, as cold weather in Europe kept shoppers in coats and sweaters.
Inditex is still building stores at a frantic pace in Asia, with plans to add 80 to 100 a year in China alone. The company also plans to open an online shop in Russia this fall. That leaves H&M rushing to catch up with 350 planned store openings this year and its first web store. It is also heading to Australia, where Inditex has been since 2011.
Before it's here, it's on the Bloomberg Terminal.
LEARN MORE