Handy Rationalizations for Your Next Expensive Beach Towel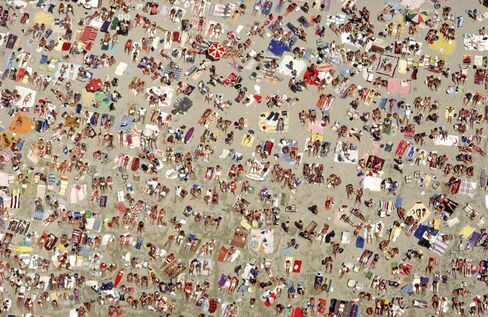 It may sound crazy to spend $238 on a piece of fabric that may be chewed on by a child, covered in watermelon juice and sunscreen, and spread on sands next to god-knows-what flotsam from the sea.
Beach towel prices can hurt more than sand in your eye. Deck Towel's pieces regularly sell for upwards of $200. A linen bath towel from Matteo in Los Angeles costs $175. Fog's beach towels cost $124. Steven Alan makes a comparatively affordable linen beach towel for $48. Still, that's a lot for a day at the beach.

But some costly linen beach towels may be nice enough to make you suspend a monthly payment to your IRA. And under certain conditions--like when retirement seems a long way off while you're rubbing these alluring textiles against your cheek--that's a fair tradeoff, right? Have we mentioned how soft they are? And how light? And how the colors are faded hues? So much so that you can almost forget the $238, right?
True, you can just as easily use a mangy bath towel on the beach. There's something liberating about not caring whether something gets shredded and stained, as any parent can tell you.
Still, laying out serious cash for high-end beach towels isn't without its rationalizations, which always come in handy for big-ticket items. Linen "is 20 times more absorbent than cotton, " says Buck Ellison, who founded Deck Towel , a New York- based towel company that makes $238 linen beach towels. They also hold far less sand than terrycloth, he says.
And terrycloth holds onto something else. "Your typical terry bathroom towel is going to hold moisture and doesn't dry as quickly," says Toni Nicolo, co-owner of Greenhouse , a home furnishings store in Brooklyn. Nicolo, whose store carries linen beach towels from Fog , also notes that linen lasts longer than cotton. "It's definitely more durable," she says, "and it's really absorbent."
...of all but the blow to your wallet.
James Tarmy reports on arts and culture for Bloomberg Muse, the arts and leisure section of Bloomberg News.