MBAs at Nonprofits Get a Helping Hand With Student Loans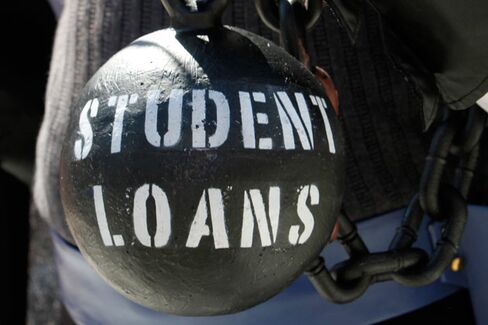 The MBA stereotype is that of graduates who get their degrees to go into such high-paying fields as investment banking and consulting. The stereotype is changing. More MBAs are using their degrees to work for nonprofits, government, or in other low-paying jobs, despite dramatically smaller paychecks. How big a financial hit are we talking about? At Harvard Business School, a graduate going into financial services can earn more than $138,000; those going to work for nonprofits earn about $77,000. Idealism costs about $60,000 a year.
Those kind of numbers make it difficult for graduates in these low-paying fields to repay their student loans. Harvard helps by kicking in $50,000 to supplement their first-year salaries; this year 19 students received those grants, bringing the total pay for each to $95,000. What about everybody else?
Turns out that many top business schools have programs that ease the financial burden of those entering nonprofit or other low-paying fields, including Columbia Business School, Duke's Fuqua, Michigan's Ross, Stanford Graduate School of Business, and Wharton, among others. The programs, which provide financial assistance to help graduates repay their student loans, are generally not well-known among business school students. That's too bad: The benefits can be significant, and they extend for multiple years, adding up to as much as $100,000 for some graduates.
Raymond Fisman, co-director of Columbia's social enterprise program, which runs the loan assistance program, says that for MBAs who are on the fence about a career in nonprofits or government, the program convinces many to take social-sector jobs. "It certainly makes a big difference to people," he said. "On an anecdotal level, it absolutely affects people's decisions on the margin."
Here's a rundown of the programs at some top business schools:
Columbia Business School: Alumni can apply to the program in each of the five years following graduation; graduates from the classes of 2009 on are eligible to apply for assistance this year. Applicants earning $80,000 or less are given priority. Benefits range from about $2,000 for those with less than $30,000 in debt to $10,000 or more for those with outstanding loans in excess of $100,000.
Fuqua School of Business: Since 2002, 74 alumni working for the American Cancer Society, Mayo Clinic, Teach for America and other organizations have participated in its loan assistance program. After a benefit reduction, new graduates are now eligible for up to eight years of assistance, with a maximum of $8,000 annually. Participants with household income of $75,000 or more are expected to contribute a portion of their income to loan payments.
Ross School of Business: Like Fuqua, Ross scaled back the benefits on its loan assistance program, from ten years and a maximum of $100,000 for those attending prior to May 2010 to eight years and a maximum of $64,000 for those attending later. Participants with household income of more than $82,500 are expected to contribute a portion of their income to loan payments.
Stanford Graduate School of Business: Alumni can participate in the Stanford program at any time while their loan is in repayment status—and, unlike many programs, if they work with an eligible organization for as little as 20 hours a week. The household income cutoff is $75,000, but the school does not disclose maximum annual awards.
Wharton School: The Wharton program (PDF) will award up to $20,000 a year for five years after graduation, although actual amounts depend on available funding. Wharton says that between 40 percent and 60 percent of applicants receive funding through the program, which has disbursed close to $1 million so far. Recent recipients have worked for the New York City Economic Development Corporation, the World Bank, and Nuru International, a group working to eliminate extreme poverty in Ethiopia.
Join the discussion on the Bloomberg Businessweek Business School Forum, visit us on Facebook, and follow @BWbschools on Twitter.
Before it's here, it's on the Bloomberg Terminal.
LEARN MORE