Crude Supply Declines for Second Week in Analyst Survey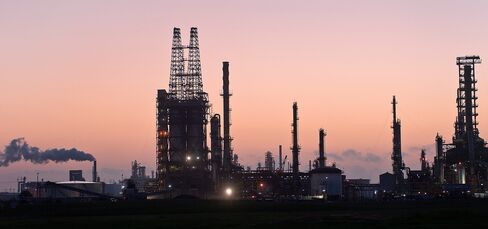 U.S. crude supplies probably fell last week for a second time as refiners used more oil to produce fuels, a Bloomberg survey showed.
Stockpiles dropped 1.5 million barrels, or 0.4 percent, to 389.8 million in the week ended June 7, based on the median of 11 analyst estimates before an Energy Information Administration report tomorrow. Six respondents forecast a decrease and five a gain. Inventories surged to 397.6 million on May 24, the most since 1931.
Refineries probably increased their operation rates from the highest level in nearly five months, the survey showed. Production of gasoline rose to 9.34 million barrels a day on May 31, the most since December, last week's EIA report showed. Fuel producers boost output to meet rising demand in the summer driving season, which runs from the last weekend in May until the Labor Day weekend in early September.
"Refineries are boosting their run rates to produce more gasoline and diesel," said Kyle Cooper, director of commodities research at IAF Advisors in Houston. "Their crude inventories are still high so they have no fear running down inventories."
West Texas Intermediate crude for July delivery rallied $4.06, or 4.4 percent, to $96.03 a barrel on the New York Mercantile Exchange in the five days ended June 7, the biggest gain since April 26. The contract settled today at $95.38, up 3.9 percent this year.
Refinery Rates
Refineries probably operated at 88.7 percent of their capacity, up from 88.4 percent the prior week, the highest since Jan. 4, the survey showed. Units often restart after performing maintenance in late winter as attention shifts away to gasoline from heating oil.
"We are in a period when we start to see more drawdowns," said Jacob Correll, a Louisville, Kentucky-based analyst at Summit Energy Inc., which manages more than $20 billion in companies' annual energy spending. "We got refinery runs up last week and we will probably see another increase again."
Philadelphia Energy Solutions started a unit at the Girard Point section of its 355,000-barrel-a-day Philadelphia refinery on June 7 after exchanger repairs, according to filing with city regulators. The unit was shut for the scheduled work June 1.
Units Restart
Marathon Petroleum Corp.'s Catlettsburg, Kentucky, refinery restarted crude unit No. 5 on May 29 after it shut May 24, Jonathan Barker, environmental inspector for state Environmental Protection Department, said by e-mail. The plant has a capacity of 240,000 barrels a day.
Citgo Petroleum Corp. said its Lemont refinery in Illinois finished work on a compressor and returned it to service on May 29. The refinery can process 170,500 barrels a day of crude.
Gasoline demand slid 1.5 percent in the week ended May 31 to 8.82 million barrels a day, after reaching 8.96 million in the prior week, the most since Aug. 31.
"It's the summer driving season and everybody looks for rising demand," said Tim Evans, an energy analyst at Citi Futures Perspective in New York. "Refiners tend to produce a bit more too."
Crude stockpiles slumped 6.27 million barrels in the week ended May 31 to 391.3 million barrels, according to the EIA. Supplies have reached their maximum annual levels in May or June during eight of the past 10 years.
A combination of horizontal drilling and hydraulic fracturing, or fracking, has unlocked supplies in shale formations in states including North Dakota, Oklahoma and Texas. North Dakota output rose 58 percent in 2012, federal data showed.
Rising Production
Rising oil production helped the U.S. meet 88 percent of its own energy needs in February, the highest rate since April 1986, according to the EIA. Production has climbed 42 percent over the past five years.
U.S. domestic crude production reached a 21-year high in early May and exceeded imports in the week ended May 31 for the first time in 16 years, according to the EIA.
"Production in the U.S. is still very high," said Phil Flynn, senior market analyst at the Price Futures Group in Chicago. "Gasoline demand should be pretty decent comparing to the week before."
Gasoline stockpiles probably increased 500,000 barrels, or 0.2 percent, to 219.3 million, the survey showed. Seven respondents projected a gain and four a drop.
Regular gasoline at the pump, averaged nationwide, slipped 0.2 cent to $3.633 a gallon yesterday, according to Heathrow, Florida-based AAA, the largest U.S. motoring group.
Inventories of distillate fuel, a category that includes heating oil and diesel, probably climbed 1.5 million barrels, or 1.2 percent, to 124.8 million last week, the survey showed. Ten analysts projected a gain and one forecast a drop.
The EIA is scheduled to release its weekly petroleum report at 10:30 a.m. tomorrow in Washington.
Before it's here, it's on the Bloomberg Terminal.
LEARN MORE