Apple and Ad Partner Chiat Eye New Campaign to Lift Brand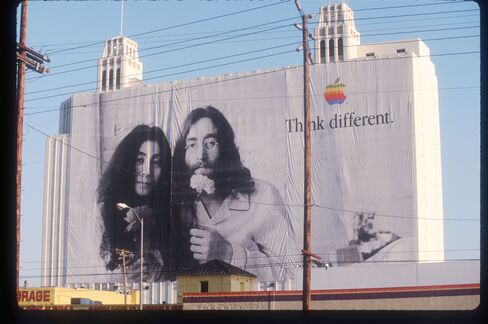 Apple Inc. and TBWA\Chiat\Day, the agency behind the company's most memorable advertisements, are embarking on a new campaign designed to revive interest in an aging product line and cement the iPhone maker's bond with consumers, people with knowledge of the plan said.
After years of product-oriented ads that have failed to stem market-share losses to devices built on Google Inc.'s Android software, the campaign will emphasize the quality and reliability of Apple's ecosystem of products, apps and content, said the people, who asked not to be named because the plans aren't public. The company previewed one of the ads yesterday. Others will follow in coming months, one of the people said.
The push comes as Apple and the agency team -- a unit called TBWA\Media Arts Lab that works exclusively for Apple -- find themselves in the unfamiliar position of playing defense. Chief Executive Officer Tim Cook reorganized Apple last year to encourage collaboration among units so that Macs, iPhones and iPads work better together, and the planned ads will focus on how the products can simplify users' lives, hearkening back to Apple's roots, the people said.
"Successful companies sometimes wander away from their core message over the years," said Prashant Malaviya, an associate professor at Georgetown University's McDonough School of Business in Washington. "For Apple, that has always been the ease and simplicity of the overall experience. They would do well to go back to their basics."
Ad Preview
Apple showed the first commercial at its annual developer conference yesterday in San Francisco, where the company unveiled a streaming-music service and a redesigned version of the iOS mobile software. The ad, which was set to debut on TV last night, touts Apple's emphasis on user experience and how its products make people's lives better.
Similarly, the ads coming this summer won't focus on the iPhone or any other single product, instead promoting Apple's brand appeal and its collection of products that work seamlessly together, said people familiar with Apple's plans.
Teresa Brewer, a spokeswoman at Apple, declined to comment on the company's plans for advertising, and Melissa Dempsey, a Media Arts Lab spokeswoman, didn't return phone calls seeking comment.
Apple's sales are projected to climb 9.5 percent this fiscal year after increasing 44 percent annually, on average, in the past nine years, according to data compiled by Bloomberg.
Stock Slide
Slowing iPhone sales and rising price pressure contributed to an 18 percent drop in earnings last quarter. With no major new product lines since 2010, shares of the Cupertino, California-based company have declined 37 percent since reaching a record in September.
"You have to be concerned about the pace of innovation," said Walter Piecyk, an analyst at BTIG LLC.
Apple and Media Arts Lab had already begun the new advertising approach with two 60-second television spots showing people using the iPhone as a camera and music player as if it were second nature.
Advertising has helped pulled Apple out of the doldrums in the past. The company and Media Arts Lab created the "1984" ad that introduced the Macintosh PC. Shortly after returning to an almost-bankrupt Apple in 1997, co-founder Steve Jobs commissioned the "Think Different" campaign that rallied its loyal fans. Later came the silhouetted iPod dancers and Mac personal-computer spots featuring comedian John Hodgeman in the 2000s.
Product Demonstrations
These campaigns set the stage for Apple's rise to become the world's largest and richest technology company, propelled by the introduction of its biggest hits, including the iPhone in 2007 and the iPad in 2010. The company now has cash and investments of more than $144 billion. Even with the recent stock plunge, it is the most valuable company in the world, with a market capitalization of about $412 billion.
After the release of the iPhone, Apple's ads focused less on emotions and more on illustrating what its products could do. Most showed an Apple gadget with a finger demonstrating their use -- say, how to pinch to enlarge a Web page -- against a clean white background and upbeat music.
Now Apple has realized that its products no longer sell themselves so easily, given competition from devices with the same or additional features at lower prices, said the people with knowledge of the company's advertising plans. Since co-founder Jobs's death in October 2011, Apple's only new product line has been the iPad mini, itself an evolution from the aging iPad.
Samsung's Rise
Since then, Samsung Electronics Co. has taken the global lead in smartphones, thanks to strong sales of its Galaxy devices. The South Korean company is also Apple's top rival in tablets.
Samsung likewise has moved ahead on the advertising front, Malaviya said. Just as Apple once lampooned Microsoft Corp. in its "Mac versus PC" ads, Samsung and its agency, Los Angeles-based 72andsunny LP, have portrayed Apple as stodgy and overrated in a series of ads that started last year. One pokes fun at geeky Apple fans standing in line waiting to get a new iPhone that lacks features already available in Samsung's Galaxy.
"We measured response to Samsung and Apple ads the week after that ran, and the scores for Apple dropped like a rock," said Peter Daboll, CEO of Ace Metrix Inc., a consulting firm that surveys TV viewers on the effectiveness of ads.
Big Brother
Apple's partnership with Chiat\Day began in the 1980s, stemming from Jobs's relationship with creative director Lee Clow. Clow, known for his long beard and laid-back approach, led development of the "1984" Macintosh ad, which symbolized Apple's challenge to International Business Machines Corp. by depicting a runner throwing a hammer into a TV screen featuring a Big Brother-like speaker. He's also credited with creating the Energizer Bunny and other iconic campaigns.
Though the agency lost Apple's business when Jobs was ousted in 1985, Jobs called Clow after he returned in 1997 to work on the "Think Different" campaign.
In the ensuing 14 years, the companies settled into a groove that revolved around Jobs, who dominated the company's advertising strategy -- and Apple and Media Arts Lab have struggled to adapt to life without him.
For years, Media Arts Lab executives, including James Vincent, traveled to Cupertino from Los Angeles most Wednesdays to discuss ideas and get Jobs's feedback, people said.
Schiller's Marketing
Since his death, the meetings are run by Philip W. Schiller, senior vice president of marketing, which has meant less clarity about what the company wants its ads to say, people familiar with Apple's advertising said.
Once Jobs had made a decision, no one at Media Arts Lab argued for long. Now, its creative staff becomes frustrated more often when Schiller shoots down ideas, they said.
Apple declined to make Schiller available for this story.
At stake is the huge amount of money Apple pours into advertising: It spent $1 billion on ads in fiscal 2012, up from $933 million in 2011 and $691 million in 2010, according to the company's annual report. Samsung spent $4.32 billion in 2012, a filing shows.
The pressure to come up with great work has increased as recent efforts have missed the mark. A campaign featuring one of Apple's Genius Bar customer-service representatives, started during the 2012 Olympics, was halted after just a few weeks.
Ads Criticized
Apple also faced criticism from viewers who said ads for the Siri voice-command feature overstated its capabilities.
Media Arts Lab, created in 2006, goes to extraordinary lengths to keep its demanding customer happy. Apple spends millions of dollars on ads that don't even run, people familiar with the matter said. Jobs said he couldn't judge promising ideas based on sketches on poster-like storyboards, they said, so he had Media Arts Lab produce almost-ready TV ads, complete with music and celebrity voice-overs. That continues under Schiller, these people said.
Ultimately, Apple will need to create hit gadgets to re-establish its stature in advertising, said Regis McKenna, a marketing adviser who has worked with Apple. The company is working on television products and a watch-like wearable device that's connected to other Apple gadgets, people with knowledge of the matter have said. It's also working on a cheaper version of the iPhone, according to a person familiar with the plans.
If these products don't connect with customers, the company that once cast itself as a groundbreaking alternative to IBM and Microsoft could join them as the latest entry in a line of once-cool technology giants.
"Apple used to have a personality," McKenna said. "That's gone away, and people need to know what's going to fill the vacuum."