Behind the Rout in Emerging-Market Stocks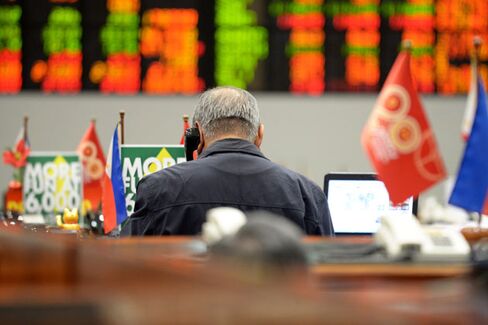 Emerging markets have been getting slammed of late. Blame jitters over U.S. interest rates, weak numbers from China, and a fall in commodity prices that are disproportionately important to developing economies.
The MSCI Emerging Markets Index is at its the lowest level since September 6 and is down 9 percent this year, compared with a 10 percent gain in the MSCI World Index. Since May 22, when Federal Reserve Chairman Ben Bernanke telegraphed that the central bank might pare its stimulus, foreign investors have sold a net $1.3 billion of Thai shares, $1.2 billion in Indonesia, and $70 million in the Philippines. Last night, those stock markets posted their biggest declines since 2011. The Hang Seng China Enterprises Index of mainland companies fell 1.7 percent, to its lowest level since October, following weekend reports that China's industrial production climbed by less than was forecast last month. "It's a period of high volatility for these markets," said Visit Ongpipattanakul, an investment strategist at Trinity Securities in Bangkok. "We should continue to see more outflow of foreign funds from Thailand, Philippines and Indonesia for some time. Concerns about the Fed tapering have pressured the markets."
Jim O'Neill, former chairman of Goldman Sachs Asset Management ,who coined the BRIC emerging-market classification (Brazil, Russia, India, China), says that concerns over changing Fed policy are especially front-and-center for emerging-market investors. "When the game starts to change with central banks, it is inevitable bonds are going to suffer," he said on Bloomberg Television. "If we see U.S. bond yields rising further and more and more people thinking about the Fed tapering, you're going to see some further reaction in many, many emerging markets, particularly where there's current account deficits."
He said India is the weakest of the BRICs. Its rupee hit a record low of 58.99 per dollar today. O'Neill also thinks Turkey is particularly exposed to global bond-market uncertainty because of its current-account deficit.
He says speculation that the Fed will taper its $85 billion a month in U.S. debt purchases in the coming months will lessen the appeal of emerging-market bonds. The benchmark 10-year U.S. Treasury yield is at 2.25 percent, compared with the record-low 1.38 percent it hit in late July. O'Neill thinks investors should get used to U.S. Treasury yields rising toward 4 percent. "It's all part of this big normalization that's going to happen," he said. "In the process, there could be quite ugly days."
Before it's here, it's on the Bloomberg Terminal.
LEARN MORE