New American Airlines Draws Most Executives From US Airways Ranks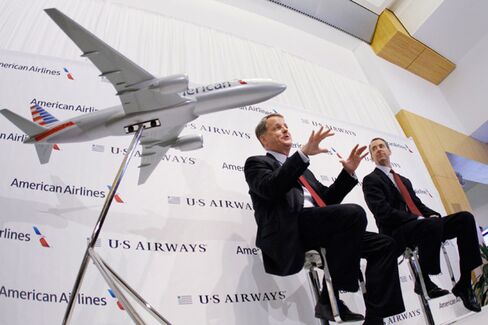 The management of the new, larger American Airlines emerging from the pending combination with US Airways will be heavily skewed toward executives from the smaller airline—an unsurprising testament to the stronger financial performance of US Airways in recent years.
Until today's announcement, US Airways CEO Doug Parker, 51, was the only executive who had been named at the merged carrier set to become the world's largest. American CEO Tom Horton will serve as chairman of the new company for several months but is expected to leave the airline in 2014.
Moving from US Airways, in their same capacities: Scott Kirby, 45, will be president of the combined airline; Robert Isom, 49, will be chief operating officer; Derek Kerr, 48, will be chief financial officer; Elise Eberwein, 48, will be executive vice president in charge of human resources; and Steve Johnson, 56, will be executive vice president of corporate affairs. From the current American Airlines, three top executives will be retained: Beverly Goulet, 58, will be chief integration officer; Maya Leibman, 47, will be chief information officer; and Will Ris, 65, will remain as the new airline's top lobbyist.
At an April media event US Airways hosted in Scottsdale, Ariz., Kirby and Isom declined to discuss their roles with the new airline or even whether Parker would ask them to join him in moving to Texas. Both executives said they did not want to appear presumptuous and acknowledged the history of conflict between American's labor force and current management at AMR, American's parent. Goulet was invited to attend that event and spoke with reporters about the integration, suggesting she would remain with the company after the merger, which is being reviewed by federal regulators and is expected to close in the third quarter.
AMR filed for Chapter 11 bankruptcy in November 2011, and the companies announced their merger earlier this year on Feb. 14 after a dogged pursuit by US Airways. Their integration process is expected to continue for as long as two years.
Before it's here, it's on the Bloomberg Terminal.
LEARN MORE