India's Rate-Cut Room Dented as Rupee Drops to Record: Economy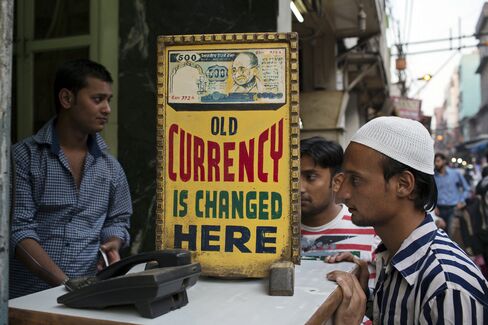 June 11 (Bloomberg) -- The slump in the rupee to a record low has narrowed the Reserve Bank of India's scope to cut interest rates next week for a fourth straight meeting.
Governor Duvvuri Subbarao will keep the repurchase rate at 7.25 percent on June 17, 11 of 19 analysts said in a Bloomberg News survey. The rest called for a reduction to 7 percent. The currency's 7.1 percent drop versus the dollar this quarter, the biggest in Asia, threatens to make imports more expensive.
The rupee reached its weakest level today, weighed down by an unprecedented current-account deficit, the slowest Indian economic expansion in a decade and speculation the dollar will gain if the U.S. scales back monetary stimulus. Subbarao said May 30 that depreciation may stoke inflation and increase the cost of servicing foreign-currency debt.
"Currency stability has become a new worry," said Rajeev Malik, an economist at CLSA Asia-Pacific Markets in Singapore. "A rate cut is unlikely to do much in reviving growth, but it will renew the pressure on the rupee to weaken further."
The rupee will drop past 60 against the dollar and the central bank "is unlikely to burn its foreign reserves" to defend it, Malik said in an e-mailed note today.
Concern the Federal Reserve could taper asset purchases as the U.S. economy expands has buffeted most Asian currencies. The rupee's drop exceeds the 5.6 percent decline in Thailand's baht, the 5.3 percent slide in the Philippine peso and the fall of about 2.9 percent in Japan's yen. China's yuan has appreciated 1.3 percent in the period.
'More Acutely'
"India is feeling the pain more acutely because the starting point was very weak due to a record-high current-account deficit," said Sonal Varma, an economist at Nomura Holdings Inc. in Mumbai. The central bank will probably focus on financial stability rather than a rate cut next week, she said.
The rupee depreciated 0.4 percent to 58.395 per dollar at the close in Mumbai today. The S&P BSE India Sensex index dropped 1.5 percent. The yield on the 7.16 percent government bond maturing in May 2023 rose to 7.30 percent from 7.28 percent yesterday.
Asian stocks fell and the yen strengthened after the Bank of Japan today left monetary policy unchanged, dashing expectations for more aggressive stimulus.
India's government is "exploring all ways to enhance the safe financing of the current-account deficit," Raghuram Rajan, chief economic adviser in the Finance Ministry, said at a briefing in New Delhi today.
He was responding to a question about whether the administration would consider options such as selling dollar-denominated sovereign bonds overseas, or bonds aimed at Indians living abroad, to attract funds.
Record Deficit
The imbalance in the current account, the broadest measure of trade, widened to $32.6 billion in the last quarter of 2012, equivalent to 6.7 percent of gross domestic product. Gold and oil imports and subdued exports have fanned the shortfall.
Subbarao said June 7 that India has a "current-account problem" and added that while inflation has "come off the peak," consumer-price growth still remains "quite high."
Wholesale prices rose 4.89 percent in April from a year earlier, a 41-month low, while the consumer-price inflation index climbed 9.39 percent. Gross domestic product rose 5 percent in the year ended March, the slowest pace since 2003.
The Reserve Bank reduced borrowing costs by a combined 75 basis points in January, March and May to 7.25 percent as the government pared the budget deficit to tackle price pressures. Subbarao indicated after the May 3 cut that the monetary authority has almost no space left to ease further.
Shubhada Rao, chief economist at Yes Bank Ltd. in Mumbai, said the central bank may delay the next cut to July.
Foreign Investment
Prime Minister Manmohan Singh began policy changes in September to spur growth, woo investment and avert a credit-rating downgrade. Steps have included liberalization in the retail and aviation industries, faster approvals for public works, lower levies on overseas buyers of local bonds and higher taxes on gold imports.
Etihad Airways PJSC agreed in April to buy a 24 percent stake in Mumbai-based Jet Airways (India) Ltd. for 20.6 billion rupees ($352 million), taking advantage of reduced restrictions.
The nation plans to eliminate the cap on foreign-direct investment in telecommunications and raise the limit in defense to 49 percent from 26 percent to lure funds and boost the rupee, according to two Finance Ministry officials with direct knowledge of the matter.
Singh's policy push has foundered in recent weeks as protests over alleged graft in government disrupted parliament, impeding bills seeking to simplify taxes and provide more land for industry.
"The need of the hour is constructive government actions to jump-start investment projects and greater policy clarity," said Malik of CLSA. "The RBI's rate cuts cannot offset the lack of adequate delivery by the government."
To contact the reporter on this story: Kartik Goyal in New Delhi at kgoyal@bloomberg.net
To contact the editor responsible for this story: Stephanie Phang at sphang@bloomberg.net