As It Preps for an IPO, the Container Store Cleans Up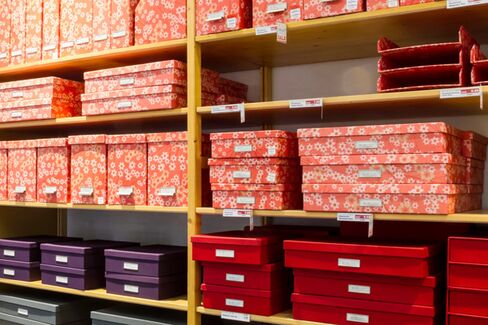 The winners in retail these days are the giant companies trying to be many things to many people—Amazon.com, Home Depot , and Costco, to name a few.
Just as it seems impossible to survive selling only hardware or toys—or even groceries—along comes the Container Store, which avoids the squeeze on narrow retail by focusing on a simple goal: selling stuff to hold your other stuff. It's kind of an anachronistic, laughable concept. It's also not a bad business model in the explosion of consumption that characterizes the 21st century.
The Container Store is the immediate answer to a lot of consumer questions. How do I tie up all these cords? How can I get more space in my closet? Where can I find a box for my tie? Where can I find a box for my boxes of ties? And a miniature box for my tie-clips?
Its proposition is also one investors might buy, as the Container Store angles for a public offering, according to the Wall Street Journal, some 35 years after its first outlet opened near Dallas. Today, the Container Store has about 58 U.S. shops, a subsidiary in Sweden (Elfa), and about $700 million in annual sales, according to Standard & Poor's. Analysts at S&P expect the company to increase revenue by an additional 10 percent this year, while posting a 14 percent operating margin.
Recently, the venture has been helped along by a culture that makes organization something of a fetish. (See: Pinterest; or any issue of Real Simple.) Putting stuff away, in fact, is a profession these days. In the past five years, membership in the National Association of Professional Organizers has doubled to 4,000, according to Jill Banks, a spokeswoman for the group. About 350 of those people have been professionally certified in that time, a process that requires an exam. "It's not for someone who's just getting into the business," Banks says.
The demand for uncluttered lives has no doubt been helped along by social media. People had messy closets in the 1980s, too, but they weren't constantly bombarded by pictures of their friends' tidy homes. They also didn't have as much stuff, according to Banks, or lives as busy. "Things are just coming at people from all different angles these days, and it's very easy to get overwhelmed by it," Banks says.
All this bodes well for the Container Store, where members of the organizers' association get 10 percent to 20 percent discounts. It's hard to find one place with such a vast array of wicker baskets, drawer dividers, cord clips, tin cans, and boxes of all size and material. Amazon.com comes to mind, but the Web retailing colossus doesn't have ranks of design experts on hand to help with closet makeovers. It also doesn't describe its corporate culture as "yummy," as Container Store Chief Executive Officer Kip Tindell does.
Entropy is a biological fact. Life, eventually, succumbs to chaos. Worms await us all. But the Container Store's tidy, colorful aisles suggest that we can, at least for a time, triumph over the messy inevitable. Who wouldn't buy that?
Before it's here, it's on the Bloomberg Terminal.
LEARN MORE