A Rare Recall Standoff as Chrysler Questions Safety Issue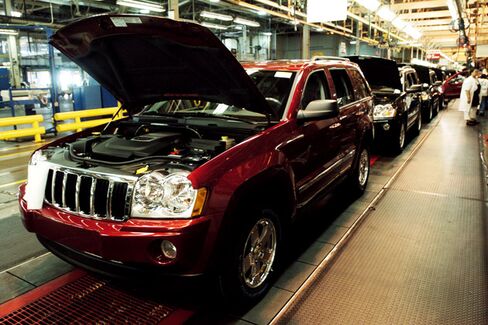 What happens if the U.S. government seeks a safety recall covering millions of vehicles, and the automaker simply says nope? As Chrysler enters into a dispute with the National Highway Traffic Safety Administration over a request to recall some 2.7 million Jeep Grand Cherokee and Liberty models built from 1993 to 2007, we may get a chance to find out.
The federal agency sent a letter this week requesting a recall over concerns that fuel tanks in the vehicles pose a fire risk in rear-end collisions, citing an inquiry (PDF) that linked the alleged design flaw to 51 deaths. Chrysler says the NHTSA's conclusions are wrong and flatly declined to initiate the costly recall sought by regulators, saying in a statement: "We believe NHTSA's initial conclusions are based on an incomplete analysis of the underlying data, and we are committed to continue working with the Agency to resolve this disagreement." The automaker has until June 18 to give its formal response, although that's likely to be a second public rejection backed by additional technical details.
The conflict started three years ago, when the Center for Auto Safety, an organization founded in 1970 by activist Ralph Nader, asked the government to investigate Jeep. In a November 2011 letter to Sergio Marchionne, chief executive officer of Chrysler and its parent, Fiat, the consumer-safety group called the Grand Cherokee a "Pinto for soccer moms," charging that the model had led to more fire deaths than the notorious Fords that were linked to gas-tank explosions and recalled in 1978. The NHTSA found that the fuel-tank placement on Jeep models, behind the rear axle and high off the ground, make it more likely to catch fire in rear-end accidents.
"Our analysis shows the incidents, which are the focus of this request, occur less than once for every million years of vehicle operation. This rate is similar to comparable vehicles produced and sold during the time in question," Chrysler says. In addition, the company is telling auto buyers to examine its data about the vehicles' safety—set out in a white paper (PDF) on its website—vs. regulators' conclusions.
Is there a fire hazard? That may depend on whose engineers you choose to believe. Is the case a matter of an automaker taking a principled stand against regulatory findings it believes to be in error—or one in which it's cheaper for the company to fight with government lawyers than recall millions of vehicles? A recall could cost $500 million, according to a Michigan auto consultant quoted by Bloomberg News. At the same time, Chrysler and its rivals periodically recall millions of vehicles without government prodding, including 630,000 Jeep models pulled back yesterday to fix transmission leaks and airbag defects.
If no resolution is negotiated, the next step in the dispute would be a public comment period, then an attempt by NHTSA lawyers to get a judge to enforce a recall. For now, at least, Chrysler appears prepared to let its lawyers take over. "We've articulated our position in a tremendous amount of detail why we consider them to be safe," Reid Bigland, Chrysler's head of U.S. sales, told reporters. "And that's it. We're not looking, I'm certainly not looking, to get into a public tit-for-tat on this issue."
Before it's here, it's on the Bloomberg Terminal.
LEARN MORE