A Davos for Main Street (in Buffalo)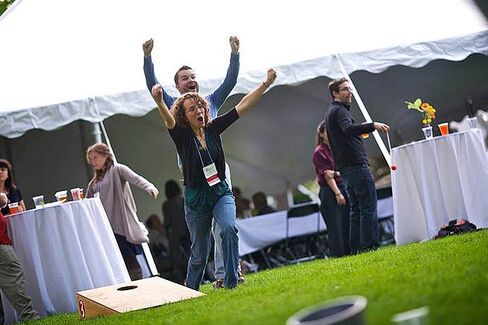 If SXSW is Davos for the Web set, next week's Business Alliance for Local Living Economies' conference is Davos for Main Street business owners—at least the stretch of Main Street interested in listening to an owner of ACE Hardware stores expound on the rise of cooperatives, Eileen Fisher find common cause with Bhutan, and solar startup Mosaic's co-founder talk about economic justice.
BALLE (pronounced bawl-EE), is a progressive nonprofit organization based in Oakland, Calif., with the mission of strengthening local economies around the country by shifting money from Wall Street to Main Street. The group connects about 30,000 independent business owners in its network with investors and mentors. The annual conference, which costs $595 for non-members, "is basically a counterpoint to what we're taught in business school," says Michelle Long, BALLE's executive director. "It's a shift from this competitive, I-must-crush-all [mentality]. The purpose of business is not just to make money, but to bring something of value to the world, to serve in some way."
The goal of the conference is for attendees to learn from entrepreneurs who run successful businesses "that are fun and meaningful and of service" to local communities, says Long. "And there are a lot of investors and philanthropists [attending] who also recognize that our macroeconomic system is yielding results that nobody wants" and are looking to invest locally. Naomi Klein, who spoke at the 2011 conference, told the crowd that BALLE's success in Bellingham, Wash., where the conference was held that year, made her "overwhelmed by the possibility of change."
This year's main event kicks off on June 12 in Buffalo. Punctuated by early-morning Pilates and yoga lessons and after-hours parties, session topics range from the practical—"Pardon the Disruption: Technology Platforms for Reinventing Industries and Advancing Localism" and "Local is the New Global: The Lessons of Manufacturing in the New Economy"—to the intriguingly titled "Gross National Happiness Business Lab." Cash mobs, mentoring sessions, tours of Buffalo businesses, film screenings (Shift Change and We the Owners), and poetry slams (during dinner) are on tap, too.
Long expects about 600 attendees —"slightly more" than last year—and notes that live video of some of the speakers will stream online for free during the three-day event. Why hold it in Buffalo? BALLE moves the conference to different cities to showcase examples of locals reviving struggling economies. Buffalo, which the Economist declared "back in business" in a June 2012 article, fits the bill.
Long thinks the premise of fixing inequality through independent small businesses is gaining mainstream traction, noting that she was invited to speak at a recent summit at Harvard called Growing the Impact Economy. "They really wanted to learn from [us], because they said 'this is the future of capitalism," she says.
Before it's here, it's on the Bloomberg Terminal.
LEARN MORE