Why Ralph Lauren Is Worried About a Weakened Yen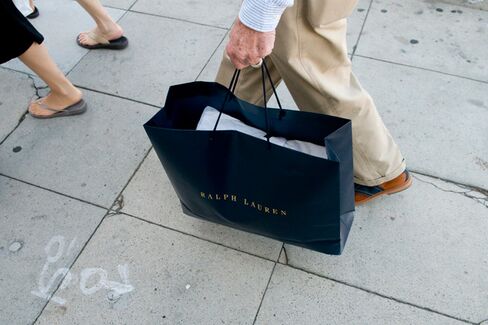 The yen-crushing stimulus program of Japanese Prime Minister Shinzo Abe promises to crimp one of the highest-spending groups of travelers in the U.S., and big retail brands that rely on yen-carrying customers—whether as tourists or shoppers in Japan—are getting ready to suffer from their reduced buying power.
In 2012, some 3.4 million Japanese travelers visited the U.S., according to recently released U.S. Commerce Department data. Compared with other overseas markets, that's a close second only to the U.K. and almost twice the number of visitors that came from Germany, the No. 3 market. And no one matches the Japanese for spending. Between plane tickets, hotel rooms, shopping, rounds of golf, and all the other things that make a trip, travelers from Japan poured $16.6 billion (PDF) into the U.S. last year. Canada aside, no other country was close.
We won't know how much of that spending has disappeared until the Commerce Department releases 2013 data next week, but the results probably won't be pretty, given recent exchange rates. For a traveler who deals in yen, everything in the U.S. is about 15 percent more expensive than it was at the end of last year.
Fallout could hurt U.S. retailers with large operations in Japan. Gap and Columbia Sportswear respectively ranked second and third in 2012 among U.S. apparel brands that count a significant portion of overall revenue from Japanese sales, according to a recent Bloomberg Industries analysis. Ralph Lauren appears to be the most exposed among clothing retailers to the weak yen, with 12 percent of its revenue coming from Japanese shoppers last year—up from 8.3 percent in 2009. Ralph Lauren Chief Financial Officer Christopher Peterson said the company raised prices in Japan in early May to counteract the exchange rate pinch. Even so, Peterson expects the weaker yen to pull operating profit down by $75 million for the company's current fiscal year. (Update: A spokesman for Ralph Lauren said that Peterson's remarks account for all foreign-exchange effects facing the company, not just the yen.)
That slump will no doubt be felt at Ralph Lauren's Japanese outlets, but the impact will also follow yen-carrying tourists on their vacation trips to U.S. stores. New York's Madison Avenue, for example, is home to a flagship store that draws large crowds of foreign shoppers, and nearly 300,000 Japanese travelers visited the Big Apple in 2011.
South Korea has already put up some alarming data on the impact of the weakened yen: a 20 percent drop in Japanese visitation in the first quarter and a 32 percent tumble in April. As a result, Korean travel agencies are cutting pay or requiring unpaid leave, according to the Wall Street Journal.
Meanwhile, on the other side of the tourism equation, the stimulus plan is panning out just as Abe planned. The number of visitors to Japan rose 18 percent in the first quarter. That's what a giant "sale" sign will do.
Before it's here, it's on the Bloomberg Terminal.
LEARN MORE