Small Business Added 58,000 Jobs in May, ADP Says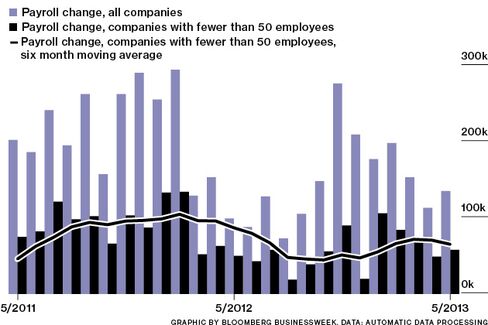 Companies with less than 50 employees added 58,000 jobs last month, as total private payrolls in the U.S. increased by 135,000, according to payroll provider ADP. Nearly all the increases came from service businesses, the company reported. Total job growth missed economists' forecast of 165,000 private sector jobs created in May, according to Bloomberg News.
"The job market continues to expand, but growth has slowed since the beginning of the year," Mark Zandi, chief economist of Moody's Analytics, said in a news release. "The slowdown is evident across all industries and all but the largest companies." Moody's and ADP jointly produce the report. Zandi cited a "significant fiscal drag" from tax increases and government spending cuts.
The Labor Department's monthly jobs report comes out Friday.
Before it's here, it's on the Bloomberg Terminal.
LEARN MORE